A video made by Sasya Wreksono to mark the 10th anniversary of the Pacific Media Centre. Video: PMC
Pacific Media Watch Newsdesk

Threats to media freedom in the Asia-Pacific region are under the spotlight at the Pacific Media Centre's 10th anniversary event today.
Since 2007, the PMC has examined whether the region is at a tipping point in media freedom issues and has explored the future of journalism in the Asia-Pacific region.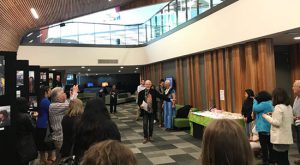 Carrying news of coups, human rights abuses, disasters and climate change, the centre has been an important independent voice, says Professor Berrin Yanıkkaya, head of AUT's School of Communication Studies.
"The Pacific Media Centre is a channel for the voiceless to have a voice, a platform for the unseen to be seen, and an arena for the 'others' to deliberate their ideas."
Dr Yanıkkaya will launch an investigative photojournalism book, Conflict, Custom & Conscience: Photojournalism and the Pacific Media Centre 2007-2017, edited by Jim Marbrook, Del Abcede, Natalie Robertson and David Robie.
Marbrook, an award-winning documentary maker, says the PMC's work is "hitting home".
"We've seen the rise of a journalistic information service that serves the world, but significantly the Asia-Pacific region."
Journalism under duress
With special guests Malou Mangahas, executive director of the Philippine Center for Investigative Journalism, and RNZ International senior journalist Johnny Blades, the PMC will also discuss the challenges to journalists reporting the Asia-Pacific region under the theme of "Journalism under duress in Asia-Pacific".
"The Pacific Media Centre's Pacific Media Watch project has developed a strategy to challenge issues of ethics, media freedom, industry ownership, cross-cultural diversity and media plurality – including in the Philippines," says PMC founding director Professor David Robie.
"This has had quite an impact over the past decade."
In the panel chaired by Dr Robie, Mangahas will speak about the culture of impunity in the Philippines and the widely condemned wave of extrajudicial killings by President Rodrigo Duterte's government, which has claimed more than 7000 lives in the ongoing "war on drugs".
Although the deadly crackdown reportedly eased last month when action was left to the Philippine Drug Enforcement Agency (PDEA), Mangahas argues there has been no real change in strategy.
Blades, among a handful of New Zealand journalists to visit West Papua, will talk about his ground-breaking assignment in 2015 to the Melanesian nation controversially ruled by Indonesia since the 1960s, where allegations of human rights abuses are rife.
"There's been a lot of democratic change in Indonesia since the turn of the century but West Papuans are still routinely restricted from exercising their basic rights such as freedom of expression and assembly.
"Meanwhile, the catalogue of violent abuses and intimidation against Papuans grows," says Blades.
The anniversary also includes the screening of a special video by Sasya Wreksono highlighting the PMC's achievements over the past 10 years, along with a photographic exhibition.
MC is Tagata Pasifika's Alistar Kata, a former Pacific Media Watch editor.
Seminar: "Journalism under duress in Asia-Pacific" 
Thursday, November 30, 2017 5.30pm-8pm
WG126, School of Communication Studies, AUT
55 Wellesley St, Auckland
Refreshments will be provided
Free admission