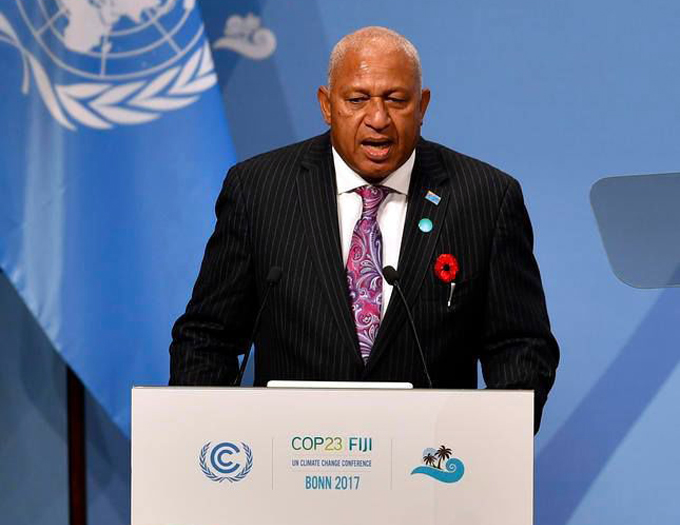 By Anita Roberts in Bonn

The Paris Climate Agreement must be implemented swiftly as backing away will expose people to more risks, Fiji's Prime Minister Voreqe Bainimarama has told world leaders.
Representing Pacific Island countries, Bainimarama, President of the 23rd Conference of Parties (COP23) to the United Nations Framework Convention on Climate Change (UNFCCC), pleaded for collective action from world leaders to tackle climate change after taking up the position of president from Morocco in Germany yesterday.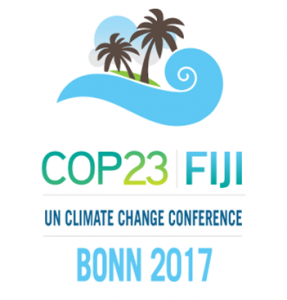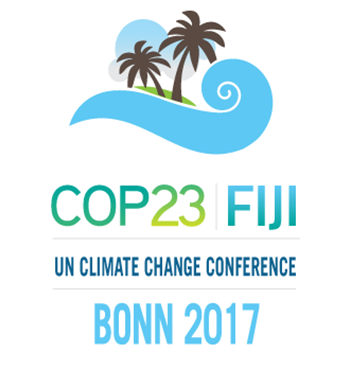 The future of life on earth depends on everyone's choices – everyone must act on climate change, he said, when opening the Climate Planet in Bonn City.
"Our world is in distress from extreme weather events caused by climate change as destructive hurricanes, fires, floods, droughts, melting ice, and changes to agriculture which threaten food security.
"Thus, the need for urgency is obvious.
"All over the world, vast numbers of people are suffering – bewildered by the forces ranged against them.
"Our job as leaders is to respond to that suffering with all means available.
'We must not fail our people'
"This includes our capacity to work together to identify opportunities in the transition we must make.
"We must not fail our people.
"That means using the next two weeks and the year ahead to do everything we can to make the Paris Agreement work and to advance ambition and support for climate action before 2020," Bainimarama said.
Fiji Broadcasting Corporation (FBC) reports Bainimarama also called for climate negotiations to agree to limiting global temperature rise to below 1.5 degrees Celsius.
"By aiming for 1.5 degrees, we are setting ourselves a serious challenge.
"But it provides us with a mission. It engages our capacity for ingenuity, for organisation and sheer hard work.
 "The only way for every nation to put itself is to lock arms with all other nations and move forward together.
Assist the vulnerable
"We must appeal for a lot more resolve to assist the more vulnerable to adapt to climate change," he said.
Bainimarama also announced the launch of an ocean pathway to ensure the ocean is an integral part of the UNFCCC process by 2020, the Vanuatu Daily Post reports.
COP23 officially opened on November 6 with a traditional Fijian ceremony and 'Bula Spirit'.
'Drua', a Fijian ocean going canoe in the foyer of the world climate conference serves as a powerful symbol of resilience and unity during the meeting.
It also signifies the resilience of the ancient culture of the Pacific in the face of adverse impacts of climate change.
Climate talks in Bonn continue until November 17.
Anita Roberts is a reporter with the Vanuatu Daily Post. She is among ten journalists from the Pacific invited by the German Foreign Affairs Ministry to COP23 as part of a competition reflecting the importance of this year's COP to small Pacific Island countries.