Boera village in Central province landowners from the PNG LNG Project to receive royalties. Video: EMTV News
By Meriba Tulo in Boera village, Papua New Guinea

After more than three years and 200 shipments, landowners of Boera village in Papua New Guinea's Central province have became the first beneficiaries from the PNG LNG Project to receive royalties.
This followed the release of royalty benefits for PNG LNG Petroleum Processing Facility Licence 2 (PPFL2) area landowners to the Mineral Resources Development Company (MRDC) from the Department of Petroleum and Energy, Department of Finance, and the Central Bank.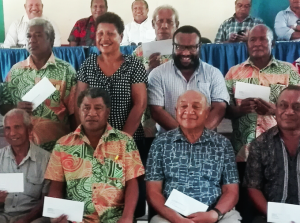 Royalty payments for the four villages of Boera, Papa, Porebada and Rearea are in line with the Ministerial Determination number G692, 2015, which will see 83 clans receive a share of K15.6 million (NZ$6.7 million).
According to the Oil and Gas Act 1998, only 40 percent is to be paid as cash disbursement to landowners, with the remaining 60 percent to be set aside in two trusts – the Future Generation Trust Fund (FGTF) and Community Investment Trust Fund (CITF).
Royalty Payment Allocation:
1. Cash Payment to Landowners: K6,250,701.00
2. Community Investment Trust Fund: K4,688,026.00
3. Future Generation Trust Fund: K4,688,026.00
From the K6,250,701.00 cash allocation, this is further broken up according to the following:
1. Rearea Village: K1,746,946.00
2. Papa Village: K1,746,946.00
3. Boera Village: K1,352,027.00
4. Porebada Village: K1,154,755.00
5. Others: K250,028.00
Meriba Tulo is a senior reporter and presenter and currently anchors Resource PNG as well as EMTV's daily National News. EMTV News items are republished by Asia Pacific Report with permission.