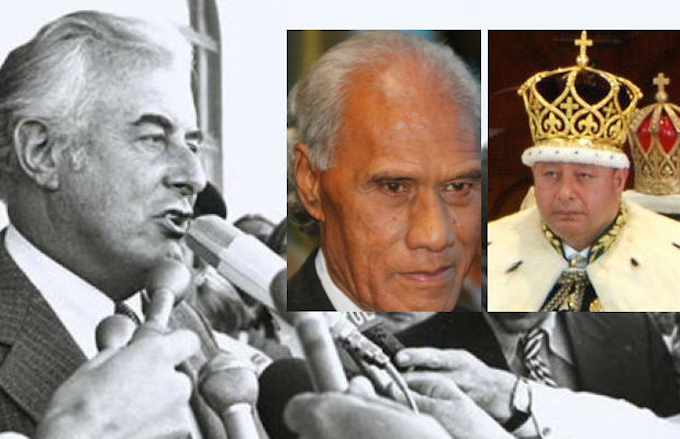 ANALYSIS: By Philip Cass in Auckland
For Australian observers of the unfolding crisis in Tonga, there are inescapable parallels between the events of August 25, 2017, and November 11, 1975.
Shortly after lunch on that November day, Australians learned that the Governor-General, Sir John Kerr, had sacked the Labor government of Gough Whitlam.
Parliament was dissolved and after an often violent election campaign, Labor was defeated, but the bitterness engendered by The Dismissal, as it became known, left a permanent stain on Australian politics.
Like King Tupou VI, the Australian Governor-General was acting legally and within the powers granted to him by the constitution.
However, his action was seen by many Australians as an unwanted interference in the democratic process.
Kerr was the representative of Australia's Head of State, Queen Elizabeth II, and conspiracy theorists claimed that the dismissal was part of a royal plot.
Others claimed that Kerr was working for the CIA and it emerged long after Kerr's death that during the political crisis leading up to the dismissal on November 11, 1975, he had met regularly with the head of the CIA station in Sydney.
Political visionary
Like Tongan dismissed Prime Minister 'Akilisi Pōhiva, Whitlam was a visionary who swept into power on a tide of popular approval in 1972, fought and won a second election in 1974 and overturned decades of rule by conservative politicians who were often criticised for acting as if they thought they had a right to rule.
Whitlam introduced new rules that brought greater equality and freedom to Australians, introduced free tertiary education, supported the arts, strengthened Australian's sense of pride and national identity, gave proper recognition to Aboriginal Australians and supported the campaign for women's rights.
But for all his achievements, his government was fatally damaged by Whitlam's inability to control his cabinet, catastrophic misjudgements of public opinion and major errors of judgment on international issues.
He was accused of sometimes acting as if he was the only member of the government and was blamed for the deterioration of the Australian economy in the wake of the global oil crisis.
Whitlam left Parliament after a series of defeats by Liberal Party leader Malcolm Fraser, who had engineered the 1975 political crisis by refusing to pass the Whitlam government's budget.
Fraser left Parliament after he was defeated by Labor's Bob Hawke. In the years that followed, the enmity between Fraser and Whitlam cooled and they became political allies on a number of causes, particularly the push to make Australia a republic.
The dismissal of the Whitlam government by the Governor-General in 1975 strengthened the support for a republic among many Australians who felt angry that a royal representative could interfere in their country's political life.
Dr Philip Cass is an Auckland media academic and adviser to Kaniva News. He is also a research associate of the Pacific Media Centre.