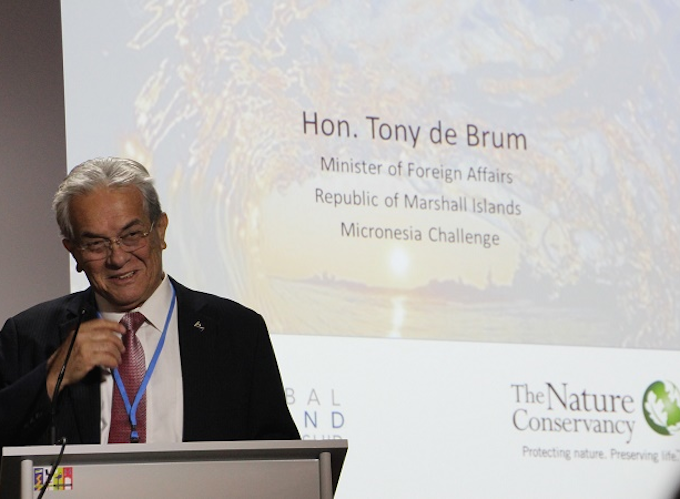 By Shawn Raymundo and Pacific Media Centre Newsdesk
Former Republic of the Marshall Islands Foreign Minister Tony de Brum, a Pacific champion of climate change awareness, has died and is being mourned globally.
As Foreign Minister, de Brum, 72, used his position to bring the issue of climate change before the United Nations and raise awareness of the impacts it will have globally.
He visited Guam last year as the keynote speaker for the Seventh Regional Conference on Island Sustainability.
Julian Aguon, the Guam Legislature's legal counsel, said de Brum died at his Majuro home, surrounded by his wife and kids, around 9 am on Tuesday. A few weeks ago, Aguon said he visited de Brum in Hawai'i, where de Brum said he wished to get back home to Majuro.
De Brum was a mentor to Aguon, who said that the two had known each other for about a decade. Aguon said de Brum was like a second father to him, as he shared his knowledge and wisdom to the young attorney during their friendship.
"He influenced a lot of people. He's a formidable global figure," Aguon said of de Brum.
"He was a leader."
Recognised globally
Over the past few years, notable organisations recognised de Brum's work to combat climate change and rid the world of nuclear weapons. Earlier this year, de Brum and the Marshall Islands were voted "2016 Arms Control Persons of the Year" by the Arms Control Association.
In 2016, de Brum and his legal team were nominated for a Nobel Peace Prize after filing several lawsuits against nuclear-armed nations that failed to "comply with their obligations under international law to pursue negotiations for the worldwide elimination of nuclear weapons".
De Brum and the people of the Marshall Islands were also the Right Livelihood Award laureate in 2015 "in recognition of their vision and courage to prosecute nuclear powers that do not respect their disarmament obligations under the Treaty on the Non-Proliferation of Nuclear Weapons".
'Fearless voice'
Greenpeace said in a statement the world mourned a "fearless voice in the battle for global climate safety".
"On behalf of Greenpeace, our staff, our volunteers, supporters and friends, we extend the deepest condolences to the family of Honourable Tony de Brum", said Greenpeace Australia Pacific chief executive David Ritter.
"Mr de Brum's tireless dedication to the pursuit of security and sustainability for his home and his people has given hope and direction to vulnerable nations in the face of the climate crisis.
"Through his courage in tirelessly pursuing security and sustainability for his people, Mr de Brum demonstrated to vulnerable nations facing climate crisis that victory is always possible, and no obstacle is insurmountable.
"A leader of the Pacific Islands, in all true meanings of the word, Mr de Brum leaves a legacy of courage, respect and dignity with his homeland and the climate movement.
"We must continue to live within this inspiration and example. In solidarity and with a heavy heart, we will defend and continue his legacy."
Shawn Raymundo is a Pacific Daily News journalist.