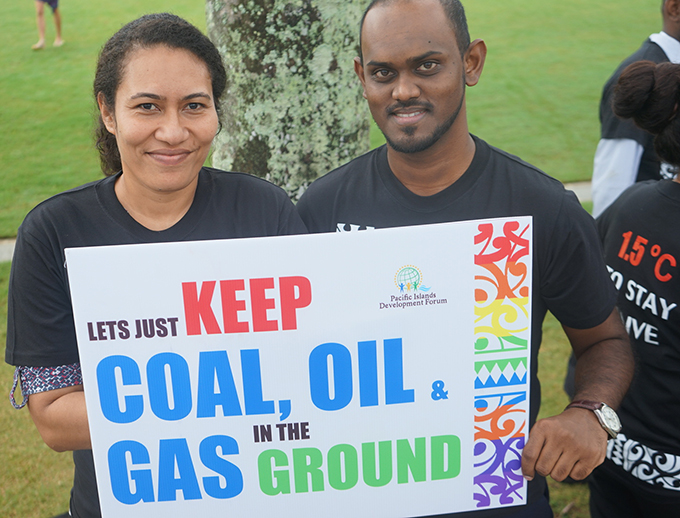 Pacific Media Centre Newsdesk
As Pacific leaders gather in Fiji, civil society groups are urging them to take the strongest possible climate message to the world.
Leaders from Pacific small island developing states (P-SIDS), Australia and New Zealand have just concluded a two-day Climate Action Pacific Partnership (CAPP) event.
They considered efforts to tackle climate change in the region through the spirit of collaboration and partnership, including Pacific Islands' key demands for the UNFCCC Conference of Parties in November, over which Fiji is presiding.
Yesterday's afternoon talanoa session at CAPP, led by the Pacific Island Climate Action Network, introduced a proposal by which Pacific Islands could leave a powerful legacy within global climate governance.
Roderick Campbell, economist from the Australia Institute; Emele Duituturaga, executive director of Pacific Island Association of NGOs; and Ambassador Albon Ishoda, from the Marshall Islands government; discussed the environmental, social and economic benefits of an international moratorium on the development and expansion of fossil fuel extraction industries, and accelerating the transition to 100 percent renewable energy.
Campbell said: "We can't address climate change while we are still planning for new coal mines and more oil and gas exploration. A world addressing climate change needs less fossil fuel not more.
"A moratorium on new coal mines makes economic sense as it supports workers in existing coal mines and facilitates a gradual transition of the economy. It ensures coal prices are higher, deterring demand and reducing emissions.
"The largest coal producer in the world – China – has already implemented a moratorium on new coal mines. Fiji has a chance to take such policies to the world at COP23."
Looking for climate leadership
Pacific Islands Climate Action Network (PICAN) coordinator Krishneil Narayan said the world was looking for climate leadership from Pacific Island nations.
"The truth is, for real climate action, the Pacific Islands need to influence global change. As custodians of the 2017 'Pacific COP', and of the moral fight against climate change, it is time for us to recognise that our local action plans need to include increasing international diplomatic pressure, regardless of conflicted-interest of development finance," Narayan said.
The talanoa session was attended by the leaders and representatives of Pacific islands governments, the civil society and the private sector.
The talanoa session recommended that a global dialogue on keeping the fossil fuels in the ground and just transitions to renewable and climate smart economies should be organised at COP23 under the high ambition Climate Action Agenda.
Pacific Islands Climate Action Network (PICAN) is a regional alliance of 55 non-governmental organisations (NGOs), civil society organisations (CSOs), social movements and not-for-profit organisations from the Pacific islands region working on various aspects of climate change, disaster risk and response and sustainable development.