Campaigning to save threatened Pacific and global fish stocks. Video: UN
Pacific Media Watch Newsdesk

Political leaders from across the Pacific have played a central role in talks this week surrounding healthier oceans during the UN Ocean Conference in New York, with Fiji Prime Minister Voreqe Bainimarama calling for a "global crusade".
Co-hosted by Fiji and Sweden, the "game changing" conference aims to see Sustainable Development Goal 14 – the conservation and sustainable use of the world's oceans and its resources – become a reality.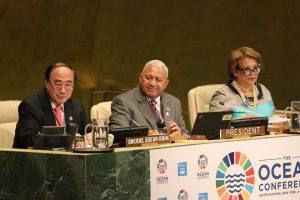 During his opening address, Prime Minister Bainimarama appealed for the world's population of 7.5 billion people to join Fiji in ensuring the health of oceans is improved, The Fiji Times' Tevita Vuibau reported.
"Let us all seize this moment in history to make a difference. To place SDG 14 at the very top of the global agenda alongside decisive climate change. We can do it. We must do it. The alternative in both cases is catastrophe."
Bainimarama, a president of the conference alongside Swedish Deputy Prime Minister Isabella Lövin, highlighted this was urgent due to the rapid deterioration of ocean fish stocks and the polluted state of the world's oceans.
"So much of what we dispose of carelessly finally ends up in our seas through storm water drains, creeks and rivers," he said.
"Our waterways are choking. Our seas and oceans have become vast rubbish dumps. And the creatures who live in them are suffering acutely – turtles, dolphins and sharks caught in netting, whales with stomachs full of plastic bags and other rubbish.
'Precious' resource dying
"Humankind is slowly killing off one of our most precious resources – the rich bounty of our seas and oceans that generations across the millennia have relied upon for sustenance, and to earn a living."
Palau's president Tommy Remengesau also called for 30 percent of the world's oceans to be protected by 2030, Radio New Zealand International reported.
Palau had already set aside 80 percent of its seas as a no-take marine sanctuary, so other countries should work together to establish a system of protected areas, he said.
"Within this worldwide network of protected areas, we must take into account the need for sustainable development and create opportunities for food security initiatives in developing countries enhancing small-scale and artisanal fisheries and building capacity in sustainable fisheries, tourism, and aquaculture."
But while the world met for action on SDG 14, the Marshall Islands Student Association (MISA) continued its calls for nuclear testing in the Pacific to be remedied through recognition of SDG 14.1.
In a joint statement with Youngsolwara issued on the eve of World Oceans Day (June 8) and endorsed by several environmental NGOs and civil society groups, MISA urged world leaders to remember the people of the Pacific have been treated like "guinea pigs".
"The consequences of detonating hundreds of nuclear bombs of a much greater destructive power than Hiroshima and Nagasaki atomic bombs are still being felt today by indigenous islanders – manifesting in, among other impacts, debilitating health and inter-generational maladies.
'Pacific people's health threatened'
This legacy continues to threaten not just Pacific islanders and the Pacific Ocean, but the health and well-being of all the planet's oceans and the people who depend upon them."
MISA and Youngsolwara also reflected on the danger the ocean now poses to the existence of many Pacific Island countries due to climate change and increased their call for the world to not forget they are on the front-lines of a warming planet.
"We call upon the leaders and peoples of the Pacific to further our efforts in making our voices heard. The United States has pulled out of the Paris accord, but we the people of Wansolwara (one salt water) remain committed."
MISA's sentiments were echoed by Bainimarama, PACNEWS editor Makereta Komai reported, as he called for Pacific leaders and citizens to lead by example at a side event organised by the Secretariat of the Pacific Regional Environment Programme (SPREP).
"While we in the Pacific await this global response, we must do what we can ourselves. We must make a much greater effort to work together among ourselves to confront the challenge we collectively face."
He admitted Fiji was also to blame for "rubbishing" the environment and therefore had a responsibility to preserve the oceans and leave "carelessness" and "thoughtlessness" behind.
"We can blame the bigger countries around the Pacific Rim as much as we like – and God knows they need to clean up their act.
NZ's 'special rsponsibility'
"But we also need to clean up ours. In far too many parts of Fiji, the Fijian people are rubbishing their country in a way that they would never rubbish their own homes."
In New Zealand, Greens List MP Marama Davidson questioned Paula Bennet, Minister for Climate Change Issues, on the government's commitment in leading the Pacific on climate change.
While Davidson claimed New Zealand had a "special responsibility" because the "very existence" of the Pacific is threatened by climate change, Bennet stated New Zealand's leadership depended on "context".
"I certainly agree that New Zealand needs to play our part in the global effort to reduce climate change. I think leadership depends on context within that.
I think we have a very special relationship with the Pacific islands. It's why we provide so much aid there. It's why we've committed more than $200 million towards contributing to helping our Pacific cousins."
Through a series of supplementary questions, Davidson continued to question Bennet on the government's apparent lack of "real" leadership on climate change, particularly surrounding what she called a "refusal" to support Pacific leaders in condemning US President Donald Trump's exit from the Paris Agreement.
Bennet stood by her earlier answers, however, and reiterated the government's "disappointment" in Trump's decision while commending the actions of New Zealand's Pacific neighbours.
Pacific actions commended
"I think I've made it pretty clear that we're more interested in the actions that we take and I'm proud of them.
Those island states are welcome to make whatever comments they like, it's called democracy. And if those are the comments they want to make on what President Trump has said, well good on them."
More than 600 voluntary committments to improve the health of the oceans have been made by countries, businesses and civil society groups since the Ocean Conference began on Monday and ends today.