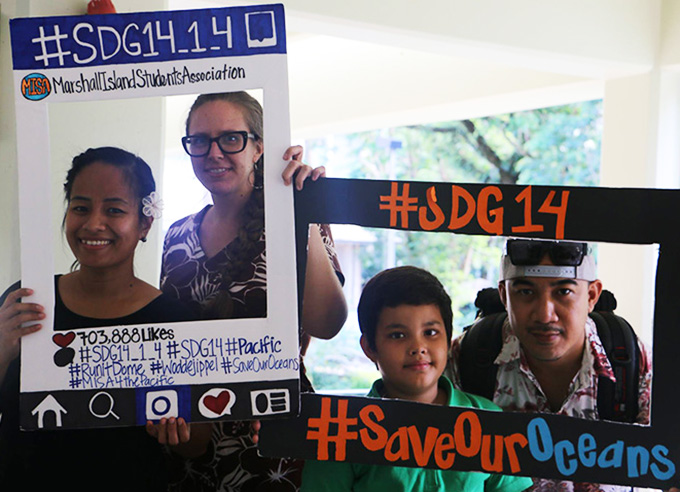 By Kendall Hutt in Suva
A group of Marshall Islanders is calling on the Pacific to stand with them in solidarity as they urge leaders to prioritise healthy oceans.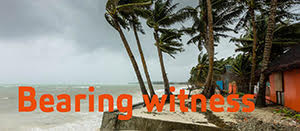 The Marshall Islands Student Association (MISA) delivered a talk at the University of the South Pacific in Fiji expressing concern about current political inaction towards addressing land-based contaminants in the ocean.
"The time to act is now. We have to act now," said Brooke Takala, a MISA member and doctoral candidate who specialises in education for sustainability.
With the United Nations Oceans Conference set to take place in New York in June, MISA has launched a campaign called MISA4thePacific, where Pacific Islanders can submit poetry, dance, art and photos urging for action regarding Sustainable Development Goal (SDG) 14.1.
SDG 14.1 seeks to prevent and significantly reduce marine pollution of all kinds by 2025, particularly from land-based activities, including marine debris and nutrient pollution, the implementation of which is to be discussed at the conference co-hosted by Fiji and Sweden.
"If we don't prioritise SDG 14.1, all of our other sustainable development goals are moot. There's no point," Takala said.
"If we have radiation leaking into our ocean and poisoning our food systems there's no food security, there's no water security, there's no maternal health, there are no opportunities. This has to be prioritised."
Widespread suffering
This call to action comes in light of widespread suffering still endured by the Marshallese following nuclear testing on Enewatak and Bikini atolls by the US during the 1940s and 1950s.
Nuclear testing in the Pacific has caused countless people in the region to suffer from the effects of radioactive fallout.
These include widespread displacement, loss of culture, and serious health issues including high rates of cancer and deformity.
More than 70 years on from the first nuclear tests, many islands and atolls remain uninhabitable.
Plutonium leakage
The members of MISA highlighted that there is an inability to address large quantities of plutonium leakage from the dome on Runit Island on Enewatak Atoll, which contains toxic waste left over from the 67 nuclear and thermonuclear bombs tested by the US.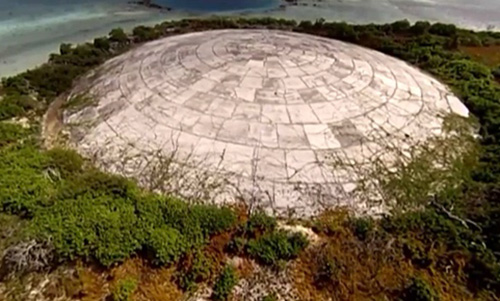 Takala said she wanted the US to finally take stock of its "unfinished business" in the Marshall Islands and recognise that Castle Bravo, the 15-megatonne hydrogen bomb tested on Bikini Atoll in 1954, which had a blast one thousand times bigger than Hiroshima, was not simply an "accident".
"For me personally as a mother of a young Enewatak boy whose land rights are on that island with a nuclear waste storage site, I want the world to know that the US has stolen my child's future and that they need to be held accountable. And I think when we share that message that it is this child's future, all of our children's' futures at stake, and that we cannot let this go."
Data collected by the US which would fully determine whether the water surrounding Runit Island is contaminated is either still classified or redacted, she added.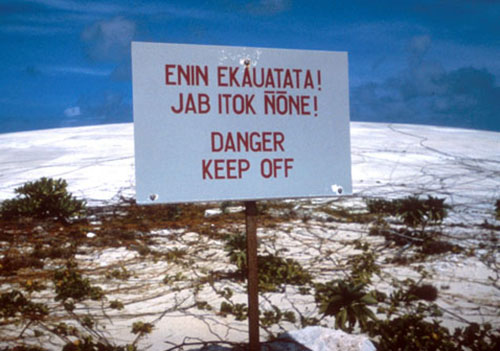 This means the ocean surrounding Runit Island could be polluted, but no one knows for certain as radiation is difficult to detect without access to scientific equipment.
The atoll's fresh water lens, which is present under the island and sits on the salt water, enters the dome from below every high tide as it is elevated, meaning as the tide rolls out radioactive isotopes are dispersed into the ocean, MISA says.
'Radiation knows no boundaries'
"Radiation knows no boundaries. You cannot taste it, you cannot smell it, you cannot see it and it does not stop at our colonial boundaries, our country boundaries," said Takala.
Danity Laukon, a member of MISA, said before radioactive nuclear waste was stored on Runit Island it was a beautiful place with prime fishing ground.
"It's not the same anymore. On top of this climate change is happening."
Takala said the Marshall Islands was at the forefront of climate change, so addressing the leakage of Runit's dome was urgent.
This is because climate change for the Runit Islands is not a question of if, but when.
Climate change implications
"When those inundations come, and when sea level rises happening, and Runit Dome becomes underwater, it won't just be a matter of it leaking into the ocean from the bottom, but the whole thing.
"So for those of us who live on Enewatak, whose families are from Enewatak, this is the most pressing matter for us. For the rest of us in the Marshall Islands, it affects all of us. But even on a larger scale for all of us in the Pacific."
Maureen Penjueli, a supporter of MISA, reflected that it was now time for the remainder of the Pacific and the next generation to take up the baton in the fight for nuclear-free oceans.
She said the Marshall Islands had been fighting and endured enough.
"It's a burden for the rest of us to bear."
MISA said despite calls for Pacific solidarity, they remained determined to make leaders recognise the need to address the lingering effects of radiation in the ocean.
"Going to New York is the plan."
Julie Cleaver and Kendall Hutt are in Fiji for the Bearing Witness project. A collaborative venture between the University of the South Pacific's journalism programme, the Pacific Centre for the Environment and Sustainable Development (PaCE-SD), the Auckland University of Technology's Pacific Media Centre and documentary collective Te Ara Motuhenga, Bearing Witness seeks to provide an alternative framing of climate change, focusing on resilience and human rights.