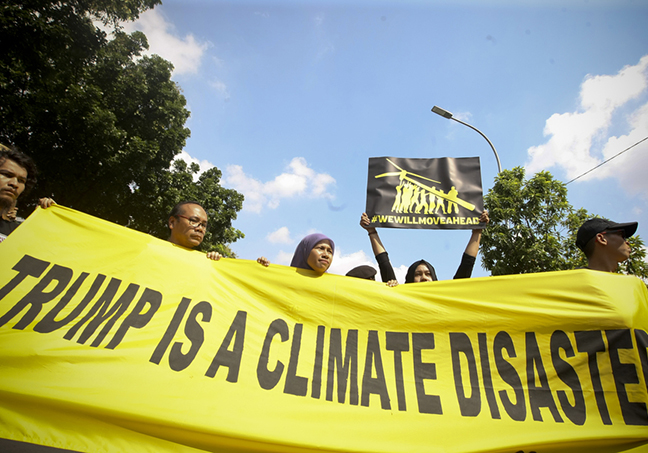 Pacific Media Centre News Desk
Greenpeace Indonesia has staged a protest in front of the US embassy in Jakarta over the decision of President Donald Trump withdrawing from the Paris Agreement on climate change.
"President Trump looks likely to turn away from the impact of climate change with millions of people falling victim of natural disasters such as flooding, drought and extreme weather which have hit many countries including Indonesia," climate and energy spokesman of Greenpeace Indonesia Didit Haryo said.
The protest was carried out on Wednesday.
Didit said the United States was the second largest contributor to gas emissions after China, adding industries in United States were even the largest emitters from the 1850s or the era of Industrial Revolution until 2010.
The United States would play a serious role hampering the global efforts to check rising global heat, he said, adding the policy of Trump reflected not what happened in US cities.
"The steps taken by Trump would not halt serious commitments by world leaders. Now it is important to implement the commitments especially in energy sector," he said.
Indonesia also has pledged to maintain its commitment.
However, expansion had continued in coal mining and use that would make it difficult for the Indonesia government to fully implement its commitment to Paris agreement, he said.
China has proved its transitional commitment by building solar power plants with a capacity of 43,000 megawatt (MW) until 2016 and cancelled plan to build 104 coal fired power plants with a total capacity of 120,000 MW.
"There should be no debate over the capability of renewable energy to meet our requirement. What is important is political will of the government," he added.