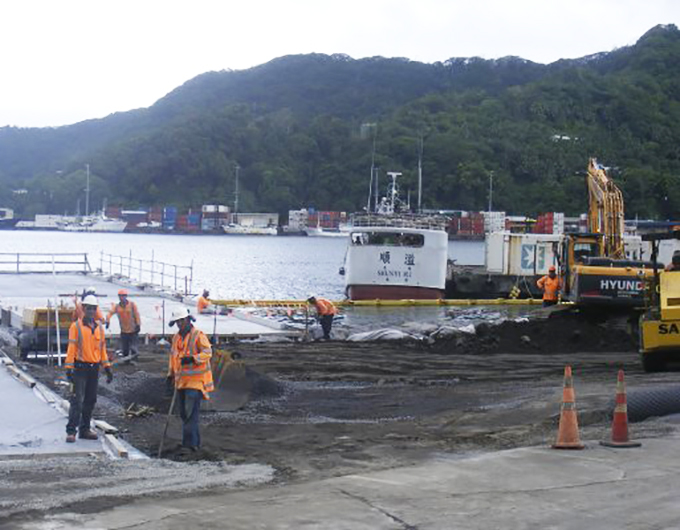 By Mackenzie Smith in Auckland
After the closure of one of its tuna canneries, American Samoa is looking to recover by giving away tonnes of the fish to its neighbours, a move welcomed by Tokelau.
In December, tuna supply group Tri Marine indefinitely closed its Samoa Tuna Processors plant based in Pago Pago after supply and profit issues.
While the fate of Samoa Tuna Processors remains uncertain, American Samoa is now sending its excess tuna to the governments of Tokelau and Samoa.
Earlier this month both neighbours were gifted more than 11 tonnes of tuna each — in Tokelau's case, enough to match two years worth of its tuna imports.
American Samoa Department of Commerce Director Keniseli Lafaele said there were plans to extend this offer to Tuvalu and Kiribati as well.
The main idea behind it, said Lafaele, was to establish economic relations and improved access to the fisheries of the wider Pacific.
"We would like to explore the possibility of exporting goods from American Samoa to the neighbouring countries." 
Mutually beneficial
This could be mutually beneficial for Tokelau, a country heavily reliant on both imported goods and income made through selling fishing licences to foreign nations, said Lafaele. 
Despite its population of roughly 1500 people, Tokelau netted US$13.5m in 2016 alone from the licensing of its 320,000 sq km exclusive economic zone.
Seiuli Aleta, Acting General Manager of the Office of the Council for the Ongoing Government of Tokelau, said American Samoa's gift was a sign of the growing relationship between the two countries. 
"It's not just that we're located in the same geographical area and there's a primary interest in fisheries, there's a collective interest which I think in terms of economic development is probably good for both countries."
Stan Crothers, a fisheries adviser to Tokelau, said Tokelau was working closely with Tri Marine leading up to the closure of its processing plant in Pago Pago.
"It's really unfortunate that they had to close. And I guess the donation of that canned fish is just an example of the sort of relationship we had. We're very disappointed that that didn't go further but we're hopeful that one day that might come again."
He said the company was offering Tokelauans the opportunity to work on boats, in the Pago Pago factory and in some management positions.
"On the American Samoan side you've got the capital and the plants, we've got the fish, there's a deal made in heaven there somewhere isn't there?"
Aleta said despite the closure of Samoa Tuna Processors, the prospect of jobs and training offered to Tokelauans by American Samoa were still "on the table".
Mackenzie Smith is a Te Waha Nui student journalist at Auckland University of Technology.