Al Jazeera's Mahmoud Abdelwahed reports on one journalist's arrest and detention in Egypt. Video: Al Jazeera
Authorities in the Maldives should swiftly identify and bring to justice those responsible for the murder of blogger Yameen Rasheed, says the Committee to Protect Journalists.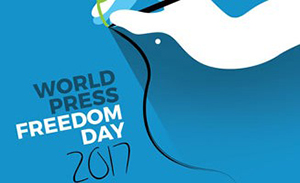 Rasheed died after he was found with multiple stab wounds in the stairway of his apartment building, according to media reports circulated just as CPJ was releasing its report on the state of global media freedom ahead of next week's World Press Freedom Day events in Jakarta, Indonesia.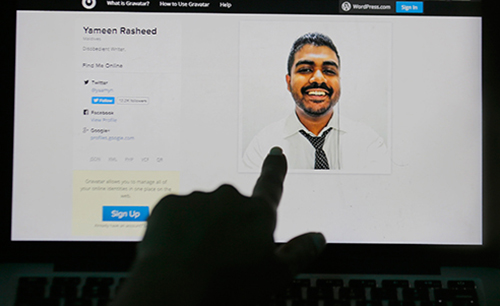 The latest CPJ report said that 259 journalists had been detained or jailed during 2016 and 1236 media people killed since 1992.
Al Jazeera, whose reporter Mahmoud Hussein was among those detained in Egypt, featured a news story about the latest report and an Inside Story programme asking whether the use of new technology making censorship easier.
Technologies like social media and surveillance had led to a rise in killings and imprisonment of reporters around the world, said CPJ.
The CPJ figures showed Egypt to be one of the most dangerous countries in the world to work as a journalist, Al Jazeera said.
Hussein, who was arrested in Egypt while on holiday, is awaiting trial on charges of "spreading false news".
Al Jazeera has denied the allegations and is demanding his immediate release.
Satirical blogger
In the Maldives, Yameen Rasheed was transported to Indira Gandhi Memorial Hospital, where he died while receiving treatment, according to Raajje TV.
He had 16 stab wounds to his chest, neck, and throat, the independent broadcaster reported.
Rasheed, 29, was known for his satirical political commentary on his blog, The Daily Panic, and on Twitter. Before his death, he had complained on social media that police had not acted in response to death threats he said he had received.
"Maldivian authorities should spare no effort to identify and prosecute Yameen Rasheed's killers," CPJ Asia programme coordinator Steven Butler said from Washington, DC.
"The Maldives must not become a country where bloggers can be murdered with impunity."
The Maldives Police Service said in a statement it was investigating the murder. In a statement, President Abdulla Yameen Abdulla Gayoom condemned the crime and sent condolences to Rasheed's family.
Rasheed led the "Find Moyameeha" campaign after his friend and Minivan News reporter Ahmed Rilwan Abdulla was abducted in 2014. Minivan News later changed its name to the Maldives Independent.
Rilwan is still missing.