Grand Chief Sir Michael Somare, founding "father" of Papua New Guinea, was given a traditional chieftain's welcome — and farewell — from politics by New Ireland Governor Sir Julius Chan in Kavieng this week. Video: EMTV
By Quintina Naime in Port Moresby
The complete polling schedule for Papua New Guinea's 2017 National Elections will be released at the end of next week.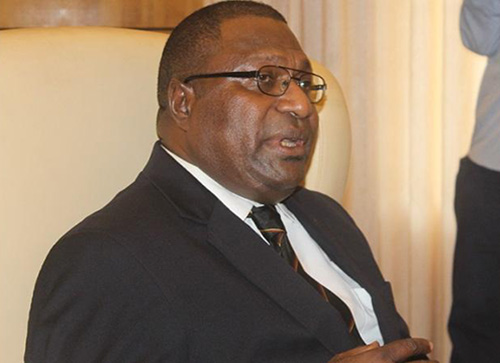 PNG Electoral Commissioner Patilias Gamato said the polling schedule for the five-yearly elections had yet to be finalised. He would sign off and have it gazetted and released.
The polling schedule will include the place and dates of polling at different venues in the electorates across the country so people know exactly where to go and vote.
The issue of writs today indicated the start of nominations and an eight-week campaign period.
The nomination period is seven days from today, and the campaign period ends on June 8.
The polling period is for 14 days starting on June 24. A two-week counting period is due to start on July 9 and the writs must be returned by July 24.
PNG's Governor-General, Bob Dadae was due to sign and issue the writs at Government House in Port Moresby.
K1000 nomination fee
Candidates can pay a nomination fee of K1000 (NZ$448) into the electoral commission trust account.
Gamato said they must produce the deposit slip of the payment as evidence so that the Returning Officer can receive their nominations.
The intending candidates have completed a candidate bio data form which gave an indication of the total number of candidates contesting this election.
It also projected how many candidates would be in one electorate so that the PNGEC can prepare the candidate posters.
"We cannot allocate the boxes until nominations are closed.
"After the nominations are closed on April 27, the returning officer of both the provincial and open seat will do a draw and will pick candidates to allocate a number to each one," Gamato said.
"Once the numbers are allocated they will then give us that information and the photographs of the candidates for us to print the posters."
Gamato said that the printing of posters would be done in the country and the commission had identified various print companies that would start printing once nominations closed.
Quintina Naime is a reporter with Loop PNG.