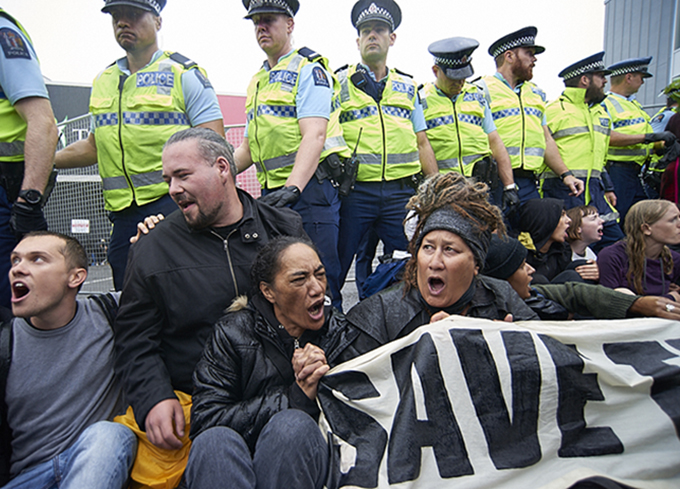 Climate change protesters blockaded the Petroleum Summit in the New Zealand city of New Plymouth today where the government was expected to announce the 2017 "block offer" for new gas and oil exploration, reports Māori Television.
Since 2012, more than half a million square kilometers of land and sea have been proposed for release, imposing on people's properties.
It will also encroach on the Marine Mammal Sanctuary for the critically endangered Maui's dolphin.
"Today's blockade intends to disrupt the Petroleum Summit by using non-violent direct action,"  says "People's Climate Rally" spokesperson Emily Tuhi-Ao Bailey
"Not a single new oil well, gas field or coal mine can operate if we are going to avoid a climate catastrophe, yet year after year the government and oil industry keep meeting to find ways to expand the industry."
The People's Climate Rally was organised by a coalition of groups from Taranaki and around New Zealand in order to disrupt the conference and discuss clean and fair alternatives to the fossil fuel industry.
It is the first time the government and international oil delegates have held the oil conference in Taranaki.
Escalating protests
This move comes after years of escalating protests in Wellington and Auckland, which have seen thousands take to the streets and hundreds blockade the Sky City conference venue in Auckland.
"We demand a stop to all new oil and gas exploration, drilling and fracking," said Bailey.
"The extraction and burning of fossil fuels is radically changing our climate, wreaking havoc on our critical infrastructure, agriculture, tourism, human health and food security. It is time to stop.
"Non violent direct action has a long and revered history. Social justice change has always involved people coming together, organising and put their bodies on the line to stand in the way of injustice.
"It is especially important that this is happening in Taranaki. Taranaki has long, bitter experience with the environmental, health and personal impacts from oil and gas activities including drilling, flaring and fracking.
"For many Māori this is seen as a continuation of colonisation."