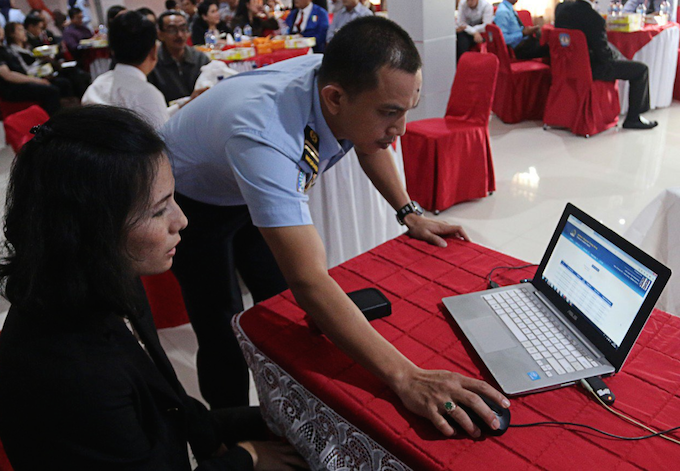 By Nethy Dharma Somba in Jayapura
Indonesia's Tembagapura Immigration Office has banned two French journalists, Jean Frank Pierre, 45, and Basille Marie Longhamp, 42, from entering the country for the next six months for allegedly violating the 2011 Immigration Law.
"The activities of these two journalists were basically good. However, there was a lack of coordination with related institutions," said Tembagapura Immigration Office head Samuel Enock in Timika, Papua.
He further explained that the two French journalists were sponsored by the national airline Garuda to carry out journalistic investigation in Indonesia.
"However, they started their work before obtaining the necessary documents, which were still being processed. As a consequence, they are banned from entering Indonesia for the next six months," Enock said.
Pierre and Longhamp were deported from Timika to France via Jakarta on a Garuda flight on Friday.
Enock said the two journalists had not yet obtained journalist visas from the Indonesian Embassy in Paris before they started working.
"They took pictures while on a tourist visa. They also had not yet obtained a reporting permit, although both of them already had a permit from the Tourism Ministry and their activities were sponsored by Garuda," said Samuel.
Charged with violation
They were charged with violating Article 75 (1) of the 2011 Immigration Law.
The French journalists were taken into custody when they were about to take pictures of the Cartenz areas using a helicopter rented from Happi Live Aviation.
They also planned to take pictures in Asmat, Wamena, and Raja Ampat and Sorong in West Papua.
In 2014, Thomas Dandois, 40, and Valentine Bourrat, 29, were deported after being detained for carrying out journalistic activities while on a tourist visit.
Nethy Dharma Somba is Jayapura correspondent for The Jakarta Post.