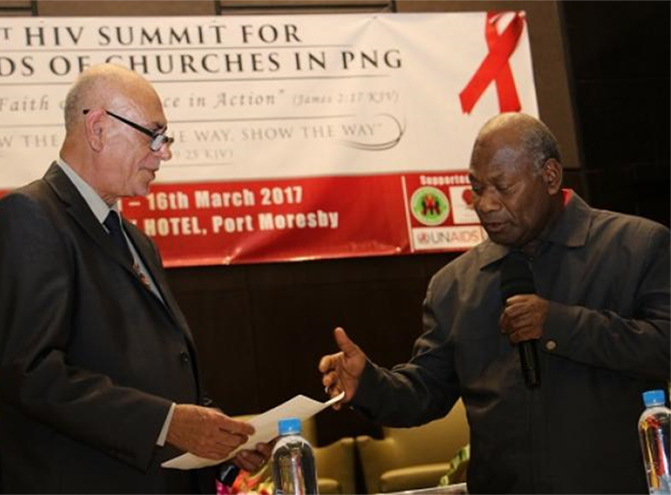 By Annette Kora in Port Moresby
Lack of funds hampers addressing issues faced by the increasing number of people living with HIV in Papua New Guinea, says Cardinal Sir John Ribat.
Cardinal Ribat, chairman of the Christian Leaders Alliance on HIV/AIDS, said this before handing over the recommendations made at the two-day summit for PNG Christian Leaders Alliance on HIV and AIDS.
He said advocacy was the paramount role of Christian leaders.
Cardinal Ribat said that through their pastoral care duties, they would advocate on outgoing, current and emerging issues that affecting individuals and families such as HIV and AIDS, gender-based violence, stigma and discrimination, access to service and issues affecting key populations.
He said that it was recommended that heads of churches must take a more proactive role in educating and creating a learning environment for our people including the key populations.
"The key advocacy statement from this summit is 'HIV is not a death sentence'."
He added that all heads of churches must from now on advocate with that message throughout their church networks.
"The government, through the department of National Planning and Monitoring, must create a physical programme for PNGCLA on HIV and AIDS so that heads of churches can be able to access government development funding through the existing MoU between the church and the government and call it the Church and State Partnership Program."
Strong concerns
The summit expressed strong concerns regarding the number of people being infected with HIV and also stressing on the continuing sustainability of the existing services that requires a strong commitment for funding.
The summit also called for a renewed national strategy with full cooperation between the government and churches in order to meet the emerging demands on the nation for the care, support and treatment for people living with HIV.
The summit was also told that Papua New Guinea had the highest HIV prevalence among the Pacific nations with a rate of 0.8 percent among the 15-49 age group.
The regional manager for the National Aids Council Secretariat, Valentine Tangoh said while
presenting his report that the Highlands region had a prevalence rate of more than 1 percent in HIV cases, placing Enga as the province with the highest rate (1.7 percent), followed by Morobe (0.77 percent). However,  National Capital District had 1.29 percent and Western Province 1.1 percent.
Tangoh said it was more concentrated in certain geographical locations within key population and groups but it was clear that it is mostly concentrated in the Highlands region with the prevalence rate more than 1 percent.
HIV prevalence of 1 percent or more was recorded mainly in the four Highlands provinces.
Enga had a prevalence rate of 1.7 percent, followed by Jiwaka (1.6 percent), Western Highlands (1.3 percent) and Eastern Highlands with 1 percent.
Sex workers
"Studies also indicate a high prevalence of HIV among female sex workers at 19 percent, male sex workers at 8.8 percent and 23 percent among transgender males."
Tangoh said the main purpose of this summit was to unite all church leaders to inform and empower heads of churches in Papua New Guinea on the current HIV status, reports and studies as well as achievements and the response gaps of HIV and AIDS of the country.
This would create an opportunity for heads of churches to deliberate on HIV and related sensitive issues that are affecting the country and how they can advocate as a collective voice to deal with these issues.
Annette Kora is a Loop PNG reporter.