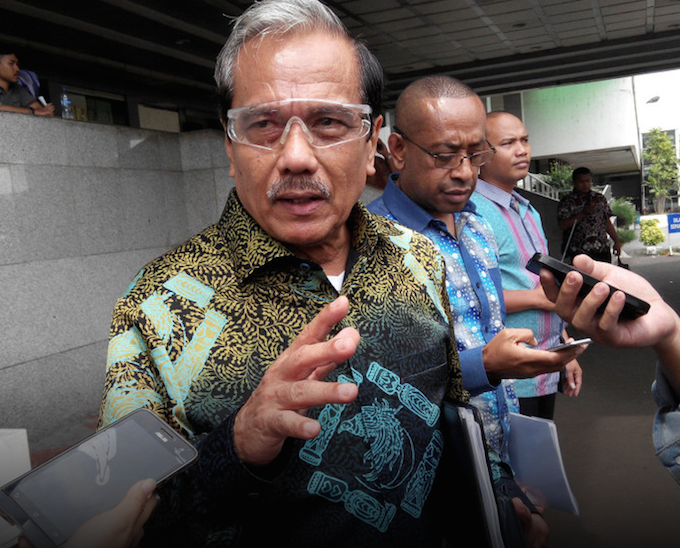 By Eko Praseto in Jakarta
Freeport Indonesia director Chappy Hakim has denied assaulting a lawmaker after a hearing with the House of Representatives' Commission VII in Jakarta.
According to reports, the former Air Force chief-of-staff had assaulted Commission VII member Mukhtar Tompo after a hearing with several representatives of mining companies, including Freeport, which operates the giant Grasberg copper and gold mine in Papua, to discuss the government's mining policies.
"There was no beating, unlike what has been reported in the media. Mukhtar also said I never assaulted him," Chappy said in a written statement.
Chappy claimed after the hearing Mukhtar had approached him to ask why Freeport had recently been inconsistent in its policies. Chappy then demanded that Mukhtar prove his accusation.
The Freeport director has already apologised to the Commission VII for the kerfuffle between him and Mukhtar.
Mukhtar's tweets trigger
Mukhtar meanwhile claimed that Chappy had yelled at him and poked him on the chest with his finger during an altercation after the hearing.
Chappy's anger was reportedly triggered by a tweet from Mukhtar criticising the lack of progress on Freeport's smelter construction.
"Freeport has violated Law No. 4/2009 articles 103 and 170. Their promise to build a smelter was only a play. This whole thing is a soap opera," Mukhtar tweeted on December 7 last year.
In another tweet on the same day, he said: "Freeport Indonesia director's statement to Commission VII today confirms they will not build a smelter if their contract is not extended. Funny."
Freeport is supposed to build a smelter in Gresik, East Java.
According to the deal they made with the government, they will not be allowed to export anymore concentrates if they do not go ahead with the smelter construction.