Land of the Morning Star … the 2004 documentary on West Papua made by Mark Worth.
From Pacific Media Watch / Australians for a Free West Papua Darwin
Australian award-winning journalist and film maker Mark Worth died in West Papua on January 15, 2004 – suspiciously just two days after the ABC announced his documentary, Land of the Morning Star, would be screened across Australia.
Many of Mark's friends and colleagues deemed his sudden death as suspicious and many called on the Australian government for a thorough investigation.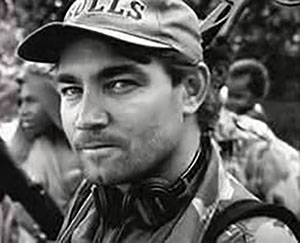 Yet the Australian government predictably left any investigation up to the Indonesian government, which buried his body so quickly that no one was able to properly establish his cause of death, which was officially left as mere pneumonia. His death remains an unresolved issue with many.
Mark Worth's sudden death shocked Papuans and all involved in Free West Papua campaigns in West Papua, PNG, Australia and the world.
Mark Worth had worked tirelessly exposing the truth about the cruel occupation of West Papua from inside West Papua, which ultimately, many assume was the real cause of his sudden death.

Mark had "worked closely with Papuan rebels for more than 15 years, making documentaries for SBS, ABC and the Nine Network and also producing radio and print stories".
Questions remain unanswered and many have likened his suspicious death to the 1975 Balibo Five murders in East Timor.
A few days following his death, Pacific Media Watch published this report:
 SUSPICIOUS DEATH OF MARK WORTH, JOURNALIST, FILM MAKER AND CAMPAIGNER FOR JUSTIUCE FOR WEST PAPUA
Saturday, January 17, 2004 – PMW:
SENTANI (RW/Pacific Media Watch): The death of Australian print, radio and film journalist Mark Worth has shocked Papuans and all those involved in the campaign to free West Papua from brutal repression by the Indonesian military.

Mark died from unknown causes in a hotel room in Sentani, West Papua, yesterday, January 15, 2004. Mark is survived by his Papuan wife Helen and baby daughter Insoraki.
Mark was born in PNG and spent most of his life in PNG and West Papua. He spent most of the last 15 years producing radio programs, writing articles and producing documentary films about the West Papuan people and their struggle for self-determination. Mark's influential documentary films include the "Act of No Choice".
His death must be treated as suspicious when recent events in West Papua are considered, and because it came just two days after the announcement by ABC television that his latest documentary Land of the Morning Star would premier on Australian television on Monday, 2 February, 2004.
Mark described this film as his "life-time project", and he spent the best part of the last ten years researching, collecting footage and interviewing Papuans to make what will be a lasting memorial to this committed journalist.
Recent weeks have seen a major escalation in intimidation and provocation by Indonesia. In the last few days five Papuans have been sentenced to between 20 years and life for their alleged involvement in a raid on a military post in Wamena.
By contrast, the nine soldiers also involved received sentences of just 6 to 14 months. Papuans students are also being held in prison in Jakarta after a demonstration and face 20 years in jail, and seven highland leaders are being held in jail in Jayapura.
And this week infamous former police chief of East Timor, Timbul Silaen, who was charged with gross human rights violations during the 1999 East Timor atrocities, took up his post as Papuan police chief.
And on Monday, in an act that shows there is no limit to Indonesia's provocation, a small island off East Timor was bombed by the Indonesian navy.
Mark was widely believed to have been linked to the recent footage, which featured on SBS Dateline last November, of OPM leaders making appeals to the international community for help to bring about peaceful dialogue to solve the problems West Papua.
Two days after the footage was screened, 10 Papuans, including one of the leaders who featured in the film, were shot as they slept in a raid by 200 Indonesian soldiers. Their bodies were later displayed like hunting trophies.
When Mark Worth's high profile and reputation as an honest and influential journalist is considered, along with the recent events, is it any wonder that many view his death as suspicious? It is vital that Mark's death be fully and independently investigated.
When West Papua finally gains independence, Mark's contribution to that freedom will long be remembered by Papuans.
Please watch the full version of the critically acclaimed documentary Land of the Morning Star below by Mark Worth
Thank you Mark Worth for your amazing accomplishments in support of exposing the truth about the occupation of West Papua.
You will always be remembered and honoured.
We give the greatest respect to Mark Worth's family and friends.
You will never be forgotten.
Papua merdeka!!
Flashback report by Australians for a Free West Papua Darwin