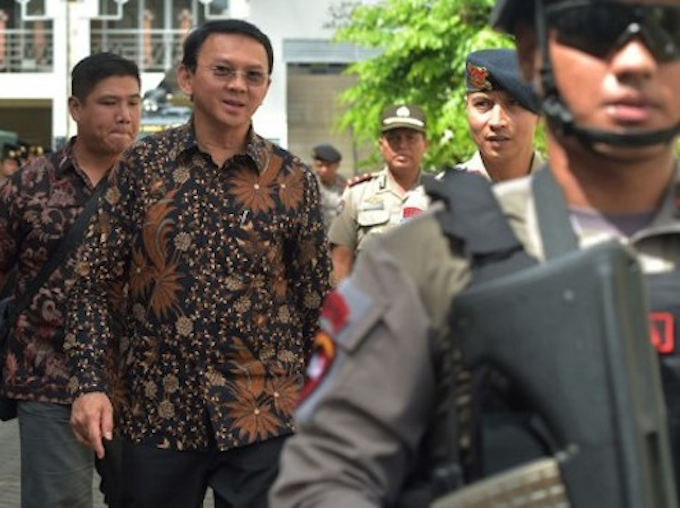 By Ryan Dagur in Jakarta
Muslim activists have joined growing calls for a hardline Muslim cleric to be charged with blasphemy for insulting Christianity.
Rizieq Syihab, leader of hardline group the Islamic Defenders Front, is accused of mocking Christians following a sermon on Christmas Day in which he is reported to have said: "If God gave birth, then who would be the midwife?"
Angry Catholic students filed a blasphemy complaint the next day. The case has won the support of more than 140 lawyers and comes amid Jakarta's Christian Governor Basuki "Ahok" Purnama blasphemy trial.
At a meeting on January 9 at the Catholic student's headquarters in Jakarta, Muslim members of the Interfaith Student Forum and Student Peace Institute, declared they also backed the blasphemy accusation against Syihab.
They said his comments not only hurt Christians but also caused division among Muslims.
"As Muslims we deeply regret [Syihab's comment]," said Slamet Abidin of the Interfaith Student Forum. "He should not have messed with the religious beliefs of others."
"We are determined to help push this through the legal process," he said.
Teaching tolerance
Islam teaches tolerance and values. But the cleric's behavior has damaged the reputation of Islam as a tolerant religion, he added.
Doddy Abdallah of the Student Peace Institute also said ignoring Syihab's behavior will help foster extremism.
"Radicalism is like a virus, and if not eradicated it will undermine religious life in Indonesia," he said.
The West Java chapter of the Indonesian Islamic Students Movement (PMII), the youth wing of the Nahdlatul Ulama, the largest Muslim organisation in Indonesia, has also condemned Syihab's comments, declaring them "against the Indonesian Constitution and state ideology."
According to Angelo Wake Kako, chairman of the Indonesian Catholic Students Association, said police questioned Syihab after the association filed the case against the cleric in December.
"While we wait for further developments, we will continue to dialogue with many parties [to gather support for our cause]," he said.
Syihab was accused of violating Article 156 section (a) of the Criminal Code on blasphemy, which carries a maximum punishment of five years in prison.
Ryan Dagur is a correspondent of United Catholic Asian News (UCAN).