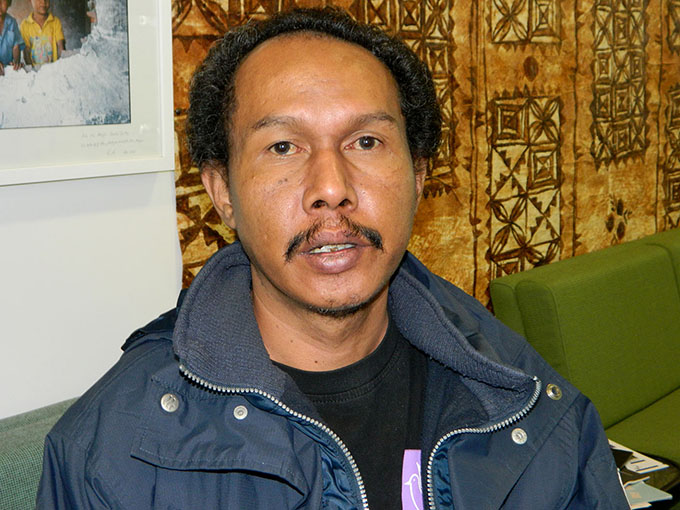 By Colette Davidson
When journalist and media activist Victor Mambor wants information from inside Papua, Indonesia, he knows how to get it — he has to ask someone who isn't Papuan.
"I'm Papuan so when something happens, I ask the police about it but they don't give me an answer," says Mambor. "My friend, who isn't Papuan, can ask the same thing and get an answer."
The situation epitomises how Mambor has had to operate in order to fill the pages of his Papuan-based newspaper, Jubi.
"If you want to be a real journalist in Papua and committed to ethics, it's very hard, from the reporting to the salary," says Mambor. "There's a double standard for Papuan journalists and a lot of discrimination."
The Indonesian government has used the long-standing conflict in Papua to justify implementing harsh rules in the region, offering limited opportunities and restricted access to journalists. While authorities may withhold information from local Papuan journalists — who are identified by their family name or physical characteristics — foreign journalists have little chance of even accessing the region.
But while the lack of access to Papua means that coverage of the region remains limited, some say that the coming year will be a test for Indonesia as it gets set to host UNESCO's World Press Freedom Day celebrations on May 3, 2017.
Many Papuan journalists say they are fed up with the censorship, self-censorship and dangers that go along with reporting from and about the region and they are ready to let the world know.
Human rights abuses
Papua and West Papua have a long-standing history of human rights abuses, ever since the Free Papua Movement (OPM) began its low-level guerrilla war against the Indonesian state in the 1960s. Since then, West Papuans have protested for independence, accusing the Indonesian government of violence and abuses of freedom of expression.
In an attempt to mask the suppression of Papuan nationalism, the Indonesian government has long made outside access to Papua a challenge.
For journalists who do tackle the task of reporting on Papua, the primary focus is often related to the environment, with topics on resource extraction or corruption — topics very difficult and dangerous to report on.
Recently, the Indonesian government looked ready to open access to Papua, when President Joko Widodo made an announcement in May 2015 stating that the government would lift restrictions on foreign media access. But Phelim Kine, the deputy Asia director of Human Rights Watch in New York, says that the announcement hasn't pulled much weight.
"It was never followed up by any written decree, so while it was a rhetorical opening to Papua, foreign media still can't get in," says Kine. "And if they do get in, they're subject to surveillance and harassment that makes effective reporting very difficult."
Kine says journalists routinely self-censor material, and that the Indonesian government and security forces in Papua often place informers into media organisations to monitor and influence coverage. At other times, an intelligence operative will be required to follow a journalist into the region, restricting what they can report on and how sources offer testimony.
The result is that little or no coverage exists about the realities inside Papua, where civilians — especially in remote areas — are victims of civil, social and economic rights violations.
Stolen land
Many in the region have no access to health or education services, or risk having their land stolen by the police or military. Because of their isolation, they have no one to whom they can report the violations.
But as much as authorities within Papua have tried to censor incriminating material, much of the news that comes out of the region remains negative, says Lina Nursanty, the World Association of Newspapers and News Publishers' (WAN-IFRA) Indonesian Media Freedom Committee chair and a West Java-based freelance editor.
"Whenever we hear anything about Papua, it's always about a tribal war or human rights abuses," says Nursanty. "The news we get from there is always violent."
As hosts of next year's UNESCO World Press Freedom Day celebrations, Indonesia has the challenging task of convincing the world that it deserves to act as a platform for media freedom.
Nursanty says that while attending last year's Press Freedom Day event in Helsinki, she joined a meeting with the Indonesian ambassador, where the discussion of Papua was at the top of the agenda.
"The Indonesian Press Council representative said that our biggest homework for next year is press freedom in Papua," says Nursanty.
The Indonesian press council is currently creating a press freedom index for each region. And while the country's overall index is improving, many Papuan journalists say it is not enough.
World Press Freedom Day
Mambor says that at next year's World Press Freedom Day, he is willing to expose the truth about Papua, even if it puts his personal safety at risk.
"We need to take the opportunity to tell the world about what's happening in Papua," says Mambor. "We need to say how we are not granted freedom of the press and about the discrimination there. I'm already past paranoia. I'll talk about what's going on. I'm not worried. Sometimes you have to take the risk."
The WAN-IFRA Indonesia Media Freedom Committee is organising a joint reporting trip to Papua at the beginning of 2017. The initiative will see 10 Indonesian media organisations provide a week of joint coverage from the region, working with local Papuan journalists to shift the national news agenda and provide more detailed coverage of issues of importance to Papuans.