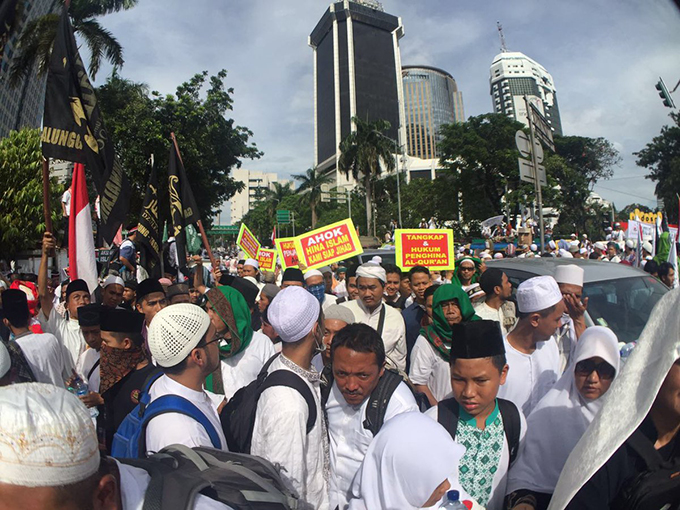 By Abdul Qowi Bastian

Sri Bintang Pamungkas was arrested in his home in Cibubur, in the outskirts of Indonesia's capital Jakarta, on early Friday morning, December 2.
The civil society leader of People Power Indonesia 2016 – a group that aims to repeal the constitution before it is amended – was supposed to join the rally against Jakarta Governor Basuki "Ahok" Tjahaja Purnama later that day.
Ahok, an ethnic Chinese-Christian politician, a double minority in the world's most populous Muslim nation, is accused by conservative Muslim groups of committing blasphemy.
Pamungkas and 9 others were accused of attempting to impeach the current government led by President Joko "Jokowi" Widodo.
Among them are high profile individuals including rock musician Ahmad Dhani; human rights activist Ratna Sarumpaet; retired two-star Army general Kivlan Zein; and Rachmawati Soekarnoputri, sister of former president Megawati. They were arrested on treason charges under Article 107 of the penal code (KUHP).
The mobile phone video of the arrest Sri Bintang Pamungkas, filmed by his wife.
In a short video circulating on social media, Pamungkas was enjoying his cup of morning coffee on his porch when police officers handed him the warrant.
"Honey, I'm being arrested," Pamungkas said to his wife who recorded the video on her mobile phone.
"Why?" his wife, Ernalia, was heard saying from behind the camera.
"They have the power to. Of course they can," Pamungkas replied.
Pamungkas and People Power originally planned to occupy the parliament building, asking the council to revoke Jokowi's presidency for, according to him, the former Jakarta governor's inadequacy to follow the "people's mandate".
Seven people were released later that day because the police did not have sufficient evidence. Pamungkas in still in detention, along with two others who are still behind bars for allegedly insulting the President on social media, and violating the Internet Transaction Law.
Racial undertones
The December 2 rally was the third in a series of protests demanding Ahok to step down from his post as governor, for his remarks that allegedly insulted Islam.
The controversy started in September 2016 when he accused his opponents of fooling the electorate by misusing a Quranic verse, to sway voters to not vote for him in the upcoming gubernatorial election.
He has apologised for the remarks but is still being prosecuted for blasphemy.
Ahok is now a suspect and faces his first trial hearing next Tuesday. If proven guilty he could be jailed for up to 5 years.
But the issue has since spiraled to include other aspects. Critics have since accused the President —who was inaugurated two years ago—  of being inadequate to manage the country. Ahok became governor after Jokowi won the presidential election in 2014. As Jokowi's deputy governor at the time, Ahok assumed the position.
Ahok himself is an outlier in the Indonesian political landscape. He was the former regent of Belitung Timur, a small region in Sumatera island, and was also a member of parliament before running as Jokowi's deputy – but has always been considered as the "outsider" who came to the capital.
'Crush the Chinese'
During the 200,000-people-strong rally on 2 December, some posters read, "Jail Ahok" and "Crush the Chinese".
The race card used against Ahok is not new within Indonesia's politics. It is deeply rooted in the New Order regime under former general Soeharto's authoritarian regime. President Soeharto —who ruled Indonesia for more than 3 decades— banned expressions of Chinese culture and politically segregated the Chinese, because of suspected ties to communism.
Rally organisers and protestors used the Islam card which is an appealing pull for Indonesian Muslim voters.
One of Ahok's opponents in next year's elections, Agus Harimurti Yudhoyono, is the son of former President Susilo Bambang Yudhoyono who led the country from 2004-2014.
Conservative Islamist groups such as the Islamic Defenders Front (FPI) —one of the main rally organizers— have on social media openly supported Yudhoyono's gubernatorial candidacy.
Shrinking civic spaces
Social media users in Indonesia are divided on the arrests. Some applaud the police force for attempting to prevent an impeachment attempt, while others see it as a violation of human rights.
"There seems to be no clear grounds for the arrest of these people," said Benny Agus Prima, Human Rights Defender Programme Associate at the Asian Forum for Human Rights and Development (FORUM-ASIA).
Prima stressed that the government must protect its people's rights to express their freedom of expression.
"The rights to freedom of expression and peaceful assembly are constitutional rights and guaranteed by international human rights law," he said. "Exercising those rights is a foundation of democratic society."
The freedom to associate and to assemble, to express written and and oral opinions in Indonesia, are regulated under Article 28 of the 1945 constitution.
If proven guilty, those arrested could be jailed for 15 years up to a life sentence.
Prima regretted the detention of the individuals, which he said was a sign of the shrinking civic space, not only in the country but also in the region as well.
Case4Space
Civic space is where people can freely exercise their basic civil rights, such as freedom of expression and freedom of assembly and association. This kind of problem is not unique to Indonesia.
During the 3-day conference entitled "Youth at the heart of the 2030 Agenda: The Case4Space" held in Bangkok, Thailand, panelists shared how there are 3.2 billion people living in countries where civic space is under threat.
"We're seeing a trend of shrinking civic space in Asia Pacific with recent examples of the criminalization of activists," Prima said, citing an example of Maria Chin Abdullah of Malaysia.
Abdullah is the leader of the Malaysian pro-democracy alliance Bersih, who was detained in November 2016 for organizing a mass rally calling on Prime Minister Najib Razak to resign over a corruption scandal.
But in the end, according to Prima, what Pamungkas and his peers did was still in accordance to the law. "They demanded the parliament to review Widodo's presidency, not bearing arms asking [him] to step down," Prima said.
The arrests, he said, should not have taken place in the first place as it would take Indonesia —a country who adopted democracy 16 years ago— back to autocratic state.
Rozinul Aqli, an Indonesian student at the American University in Cairo, Egypt, also voiced his disapproval in Twitter, saying, "[Widodo] is increasingly becoming more comfortable in borrowing a page from Soeharto's playbook".
"Ideally, there should be clear violent acts for something to deserve the label of treason," Rozinul said in an email to Rappler.
"In practice, however, this article [Article 107 of the penal code] has been used to criminalize many activists that were not, strictly speaking, threatening national security," he said.
Freedom of expression at risk
Prima further said this case would set a bad precedent for human rights defenders.
"What I fear the most is, this criminalisation will restrict human rights defenders' freedom of expression," he said.
Although he also noted that the people who were arrested should respect Ahok's freedom expression as well.
"When we're talking about freedom of expression, we should respect others' freedom to express their thoughts as well," Prima said. "We can't force those who, let's say, commit human rights violations by also violating others' human rights."
Rozinul added that rubber articles, such as Article 107 of the penal code, are problematic as they deprive citizens the right to legal certainty.
"If some of us are alarmed by this development, it is because we know that using rubber articles to silence dissents was one of the cornerstones of the New Order regime," he said.
Abdul Qowi Bastian is a staff editor for Rappler based in Bangkok.