Forgotten Dawn Children's official trailer.
By TJ Aumua in Auckland
Filmmakers Joshua Iosefo and Corey Larry Sio found out this month that their short film Forgotten Dawn Children will be screened in Sydney later this year at the Pasifika Film Festival.
The best friends are still overwhelmed saying it is a dream come true to have a film accepted into a festival.
Originally made for final year assignment at university, Sio, the films producer, says he is "shocked but humbled" at the news.
"I didn't think we would submit it into anything…but he did!" Sio laughs pointing to the films director, Iosefo, who is sitting next to him.
"As we were making it I was like, yeah, this is going be in a film fest!" 22-year-old Iosefo admits.
"I just had this big dream that even though this was supposed to be an end of year assignment, I wanted to make it way more than that."
"For it to be recognised in a film festival adds value to the film," says Iosefo.
This is especially important to a film that is based on a shamefully true event that itself, has received little value and little recognition in New Zealand's history.
 The film follows main character, Ioane, a middle-aged man, who is haunted by his memories of the dawn raids, and the struggle of growing up as a Pacific Islander in mid-1970s Auckland.
While going about his daily life, Ioane's flash backs, show us the unjustifiable arrests of many Pacific Islanders whose homes were raided by police in what is now today's trending suburbs of Ponsonby, Grey Lynn and Mount Albert.
 Honoring the struggle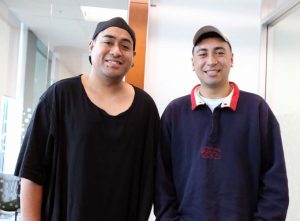 "The Dawn Raids is not taught in New Zealand schools- it's not in the curriculum," Iosefo explains.
It wasn't until a year-12 drama teacher in high school taught him about the dawn raids when he became "obsessed" with learning about it.
"I feel that, that was quite late in my life to learn something that concerns my people and my history in New Zealand," Iosefo says, who is a proud Samoan/Niuean.
"Hence Forgotten Dawn Children.
"I felt that there needed to be something to honor that, to honor the struggle, as well as the memories of people…memories that have just been forgotten."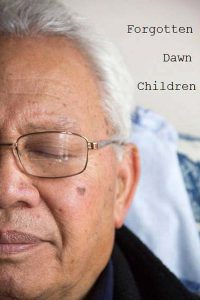 'Our people'
'We don't take credit for the film,' they both say. 'We are just telling the story of our people and what happened.'
Twenty-eight-year-old Sio, says seeing the film come to life has created a new found respect for his Pacific family.
"It's made me realise how strong and resilient our people are. We are some of the greatest survivors of all time. We really, really, really are strong!
"It makes me even more proud to be Samoan."
When asked of the most memorable moment in the film, Sio said it was the last scene.
"It was this police scene we filmed on a street in Māngere. We had cops chasing five Pacific Islanders down the street-we had to shoot it so many times.
"People were coming down the street, I think people thought it was real, seeing everyone watching-that will forever stay in mind.
"We were almost done, that was our last and biggest scene and we had no energy left."
"We were so exhausted that night," Iosefo adds.
"I fainted in the car…while I was sitting down!" he laughs.
'Home grown'
It took an eight-member-crew made up of fellow students in their class to make the film which they refer to as "totally home grown".
Family, friends, and a childhood music teacher were also "shoulder tapped" and generously donated their talent, time and money to making the film.
"At least three quarters of the cast are my family," says Iosefo.
He credits his dad, who not only acted in the film, but also played the role of transport, errands runner and provided food for the cast and crew throughout the long hours of shooting.
Both Sio and Iosefo say they will be launching a new film project next year.
In the meantime, they are still feeling overwhelmed by their films success and will be flying to Sydney in November for the screening of Forgotten Dawn Children at the Pasifika Film Festival.
We wish them all the best!