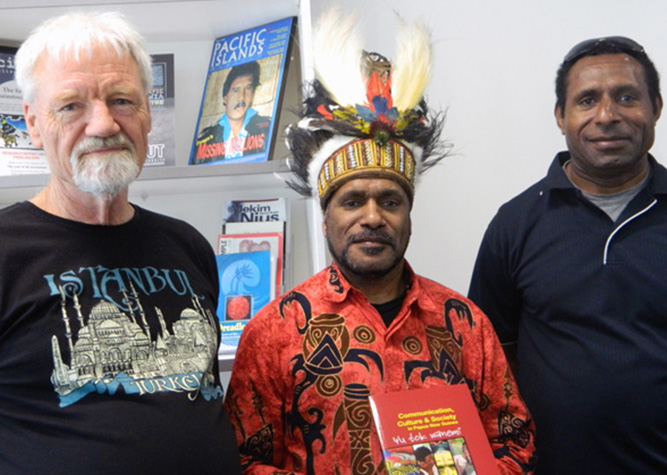 Benny Wenda, spokesperson for the United Liberation Movement for West Papua (ULMWP) and a traditional tribal leader, will visit New Zealand between August 23 and September 1.
He is seeking support for the campaign for justice and self-determination for the people of West Papua.
Wenda will be welcomed to Orakei Marae on arrival and invited to address Ngati Whatua Orakei whanau and the public before travelling to other main centres around the country to meet parliamentarians, iwi representatives, human rights groups, church groups, students, and youth.
Benny Wenda's last visit to New Zealand in 2013 was notable for a rebuff by the Speaker of Parliament, David Carter, who refused to allow him the chance to speak at Parliament.
However, this time with an expanded group of parliamentarians supporting West Papua we hope that he will receive a more encouraging reception from Government representatives.
Also in 2013, Benny Wenda visited the Pacific Media Centre and was interviewed by Papua New Guinean journalist Henry Yamo.
Occupied by Indonesia since 1963, West Papuans are victims of ongoing human rights abuses, killings, torture, beatings, military and police intimidation, and gross neglect of basic services.
Severe penalties
When Papuans resist occupation non-violently they are labelled "separatists" and risk severe penalties under Indonesia's treason and incitement laws.
Benny Wenda was arrested in 2002 by Indonesian authorities for allegedly leading an independence rally.
He was tortured, held in solitary confinement, and was facing a 25-year prison sentence.
Rumours were circulating that he might even by killed, but Wenda escaped and was granted political asylum in the United Kingdom.
Now he is tirelessly advocating for his people, travelling throughout the Pacific, Africa, and Europe where support for West Papua is growing steadily.
Wenda is looking forward to meeting with the new wave of Maori and Pasifika activists in Aotearoa and meeting with New Zealand members of the International Parliamentarians for West Papua.
The International Parliamentarians for West Papua met in May 2016 and resolved to call for an internationally supervised vote on independence in West Papua.
The meeting, held in the Houses of Parliament, Westminster, was attended by MPs from the Pacific region and the UK including Jeremy Corban and Samuela 'Akilisi Pohiva, Prime Minister of Tonga.
Benny Wenda will be welcomed onto Orakei Marae and invited to address Ngati Whatua Orakei whanau. 6.30pm, Tuesday, August 23, Orakei Marae, Auckland. The public are warmly invited.  Oceania Interrupted is supporting this event.