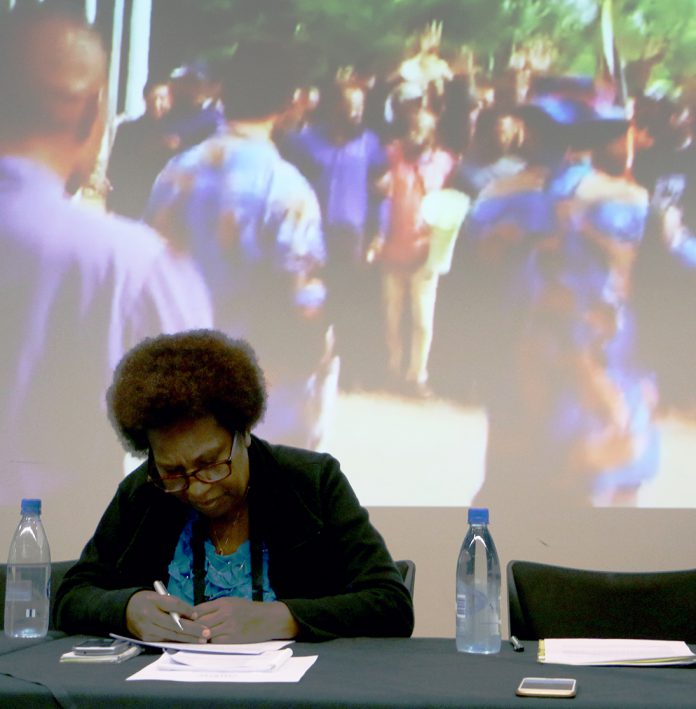 By David Robie
A Papua New Guinea media educator today called for an investigation into coverage of the two months of protest at the nation's universities, including last month's incident when police opened fire on peaceful students.
Emily Matasororo, leader of the journalism strand at the University of Papua New Guinea, was critical of students protesting against the media earlier in the period of unrest for burning the two national newspapers, PNG Post-Courier and The National, on campus.
But she added that they did this to "show their frustrations" over how they viewed the media as taking sides in the dispute.
The students were calling for the resignation of Prime Minister Peter O'Neill and for him to cooperate with a police investigation into corruption allegations.
"The burning was an indication that they disliked the paper's coverage of events leading up to the protest," Matasororo said in a Pacific journalism education panel session at the Fourth World Journalism Education Congress hosted at Auckland University of Technology.
"Why should the Student Representative Council go as far as preferring certain media outlets over others?"
The Post-Courier, The National and television station EMTV were banned from covering student activities on campus.
'Public space'
"The UPNG is a public and government-run institution and is a public space open to everyone, including the media.
"If students reacted that way, it brought up issues of credibility and integrity of the freedom of the press in Papua New Guinea."
Matasororo also said that this brought to light questions of ethics.
She quoted a statement from a student leader online in PNGLoop that described the news reports and "shallow and biased" and saying they "have no trust in the media".
"While I acknowledge and appreciate the tireless efforts of the media's coverage of the student protest, for me, this is a strong statement that needs to be investigated," she said.
It needs to be done by all stakeholders concerned to promote "fair and just reporting" and "the essence of good ethics and journalism".
The stakeholders included the newspaper publishers and management, the Media Council of PNG, Transparency International, Ombudsman Commission and journalism educators at UPNG and Divine Word University at Madang.
'Black Wednesday'
Matasororo presented an analysis of the unfolding events in PNG.
On June 8, heavily armed police fired upon the peaceful protesters at UPNG after a scuffle and up to 30 were reportedly wounded. Some international media reported four deaths but this was later denied by Port Moresby hospital authorities.
To mark what has been dubbed "black Wednesday", UPNG's journalism Strand plans to unveil and wall display to tell the "untold stories" and a photo montage of "unseen images" for future students to "ponder over".
Dr David Robie, director of the Pacific Media Centre, was chair of the Pacific journalism education panel.