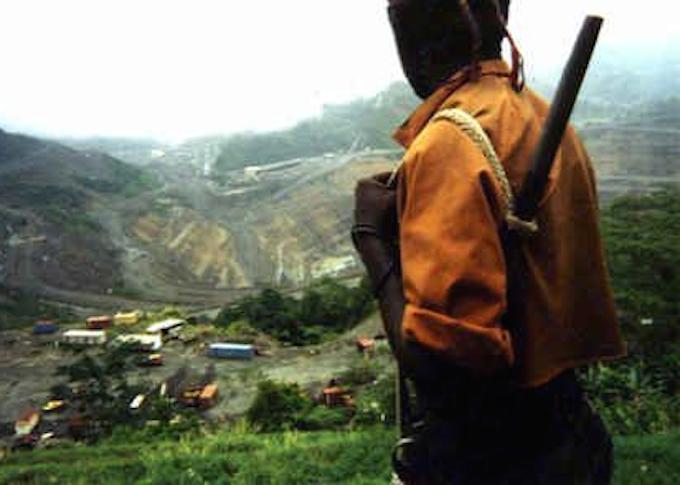 Bougainville's president and Meekamu landowner chiefs have condemned the Rio Tinto "mess" over Panguna mine and the traditional landowners have called for the company to be charged for "stealing our resources".
President Momis today expressed shock and disgust at a "disgusting and shady deal" between the Papua New Guinea national government and Rio Tinto.
He said the national government was deeply involved in Rio Tinto's decision to transfer 17.4 percent equity in Bougainville Copper Ltd (BCL), making the national government equal shareholder with the Autonomous Bougainville Government in BCL.
Momis also warned the move was a "grave threat" to the Bougainville Peace Agreement.
in a statement published on Bougainville News, President Momis said :
"Rio Tinto officials verbally advised me on Wednesday night of Rio's decision to transfer its shares to a trust, with 17.4 percent to be available to PNG and 36.4 percent to the ABG.
"The ABG has been aware since 2013 that PNG was proposing to purchase Rio's 53.8 percent majority equity in BCL.
'Deeply sensitive'
"I advised the Prime Minister on many occasions that Panguna mine and BCL share issues were deeply sensitive for Bougainville.
"I told him that national government majority ownership in BCL could endanger peace. I expressed the same views to Rio Tinto in meetings in July 2015 and February 2016.
"So I am shocked to find that without consulting the ABG, they have entered a disgusting and shady deal over Rio shares in BCL.
"Making the national government and ABG equal shareholders gives the national government equal power with the ABG over decisions on Panguna. So equal shares is just as offensive as majority PNG ownership.
"This decision is a grave threat to the Bougainville Peace Agreement. The National Government and Rio originally cooperated to force an unjust Panguna mining deal on Bougainville. They [are] now continuing their partnership against Bougainville.
"It is deeply worrying that Rio and PNG are again conspiring against Bougainville in this share deal."
'Sweetheart deal' turned sour
The Meekamui Council Of Chiefs leader, Chris Uma, has called the decision by Rio Tinto to exit Panguna mine as a "sweetheart deal gone sour with one party crying foul".
Meekamui Council Of Chiefs comprises paramount chiefs from six major clans, who sit on the council and control all traditional land and resources on Bougainville.
The PNG Post-Courier reported the Meekamui statement:
"Meekamui does not recognise or trust ABG to handle any issues regarding land because of past bad decision by politicians that forced the Bougainville crisis.
"The Meekamui council of chiefs believed in the 1948 General Assembly of the UN adopted and proclaimed the Universal declaration of Human Rights.
"Article 17 of the declaration states:
(1) Everyone has the right to own property alone as well as in association with others.
(2) No one shall be arbitrarily deprived of his property.
"We believed that in 1975 when PNG became independent it adopted this rights into constitutional law and prohibits its termination by an ordinary law by Parliament.
'Stealing our resources'
"Meekamui believe that our land was unlawfully acquired by Australian government for CRA and the 1967 (BCA) Bougainville Copper Agreement may have been rendered defective in 1975 when PNG gained independence.
"Chief Uma said if the above was proven to be true then Rio Tinto or Bougainville Copper Agreement was illegal then the company will be charged for stealing our resources and creating massive environmental damages to our land."
Uma explained that ABG and the state should not be dragged in to clean up the mess of Rio Tinto but stay our of business, the Post-Courier reported.
"Let me assure my people that I will stop at nothing to correct the wrong and injustice suffered."
Uma has appealed to the Prime Minister to reject the Rio Tinto deal as a "con deal hacked out to escape corporate responsibity to clean up their mess".
Uma also announced that the Meekamui Council of Chiefs had appointed a two-man task force team headed by Meekamui Special Envoy John Jaintong and Reuben Siara, the lawyer who filed the court case in the United States against Rio Tinto seeking US$10 billion in damages.
The task force would look into refiling the case at the US courts to make an application to liquidate BCL and BCF and return proceeds to fund projects, and inform the Stock Exchange to deregister the company.