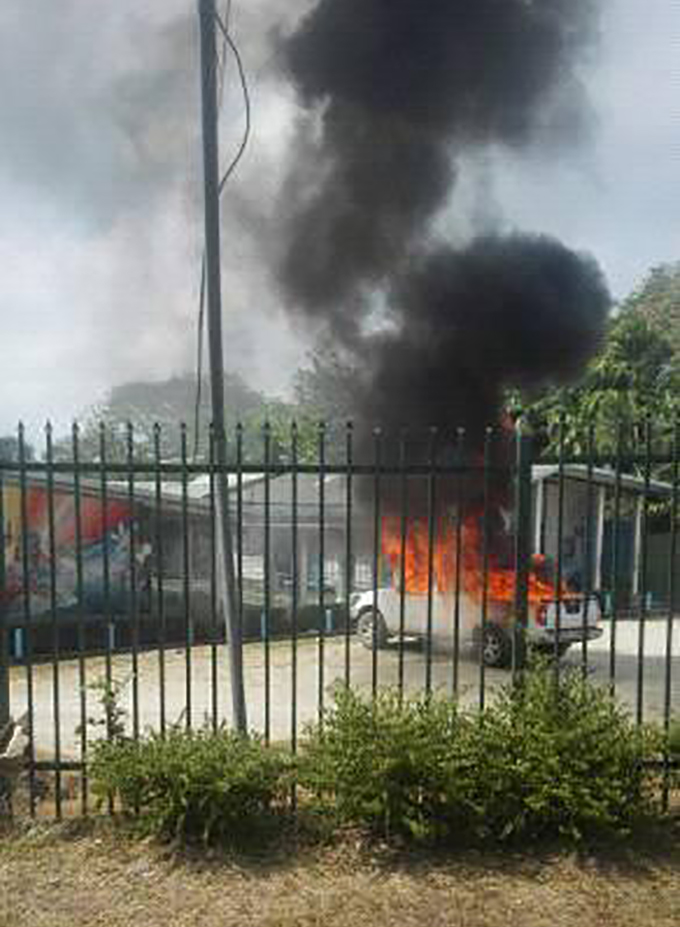 By Peter Solo Kinjap in Port Moresby
Students from the University of Papua New Guinea reportedly clashed with Uniforce Security Service guards today, leading to three cars being torched and the Michael Somare Library being stoned.
Several security officers were injured in the clash on the Waigani campus that students blamed on provocation.
The clash was sparked when security officers tried to stop the students having a meeting in front the UPNG Clinic and Toa Hall residence.
The students met to discuss an official apology they were seeking from the university administration on the June 8 incident when police opened fire on peaceful demonstrators.
The Students Representative Council wants the university to cover the medical expenses of the students who were injured during the shooting incident and an immediate investigation separate from the one sanctioned by the government.
After discussing these issues, the students expected to have a reconciliation meeting this afternoon with the university administration and were hoping to return to class next week.
'Students not to blame'
However, senior Post-Courier journalist Gorethy Kenneth warned fellow PNG journalists on her Facebook page today to write "sensitively" about this clash.
"The incident at UPNG is not protest connected…A group of boys were selling betelnut around the clinic area there… A Uniforce car came in to stop and disperse the sellers who were with some drunkards too and because of this a fight broke out as stones were thrown and this caused [the] setting alight of 2 vehicles parked in the security yard belonging to UPNG staff."
Police have been called to the campus and the situation is now calm.
There has been unrest at the nation's universities for six weeks with students calling on Prime Minister Peter O'Neill to resign and face an investigation into corruption allegations.
Meanwhile, University of Technology (Unitech) students are ready to resume classes next Monday.
A student from Unitech said there was a police presence on the campus and most students were ready to resume classes next week.