Papua New Guinea authorities deny a student has died from the police crushing of a protest at the University of PNG last Wednesday, but have admitted that two students are still being treated in hospital for their gunshot wounds. EMTV News
By Camela Gware, Charles Yapumi and a Citizen Journalist in Port Moresby 
Students at the University of Papua New Guinea today refused to return to classes and about 40 daubed themselves in red earth in "haus krai" mourning for their wounded fellow-students still in hospital.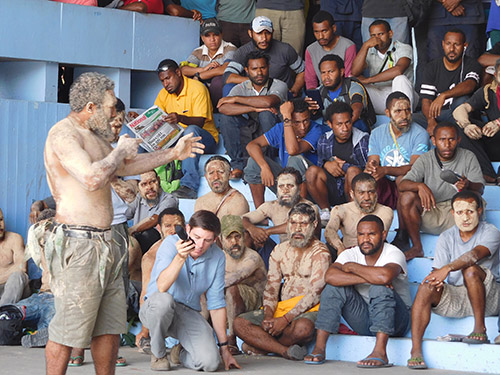 The vice-chancellor, Professor Albert Mellam, said last Friday students would return normally to classes from today, but the mourning protest of the painted haus krai students was the significant development of the day.
It is understood at least two students who were critically wounded by police gunfire at UPNG last Wednesday are still being treated in Port Moresby General Hospital.
In other protests today, there were clashes at both the campuses of University of Technology in Lae and the University of Goroka in the Eastern Highlands.
Protesters, now in the sixth week of action, are calling on Prime Minister Peter O'Neill to resign and face an investigation into corruption allegations.
"This is to show that we are still in a haus krai. We are not in the mood to attend classes," a student leader, Christopher Kipalan, announced to those on campus.
'Sign of respect'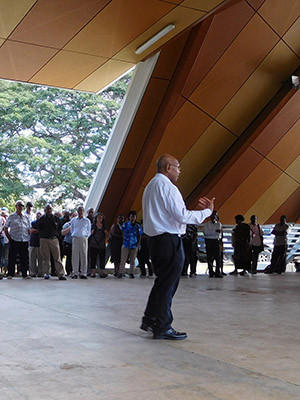 "Pasin Melanesia na mipla peintim pes na kam," he said. "This is a sign of respect to our fellow students who are still on the sick bed," another student said.
"We are not here to destroy anything. We want the administration to understand our plight and not force us to go to class."
The line of students increased during the day as they walked around campus back to the Forum Square.
Only a handful of students could be seen on the ground for classes.
But the mood was quiet and orderly.
"The situation got out of hand, yesterday and today," chancellor Joseph Sukwianomb told Loop PNG today.
He could not confirm the number of students injured but said the casualties were from both sides due to stones being thrown and fired from slight shots. Bows and arrows were also being used.
"A number of students have been injured and taken to the hospital," Dr Sukwianomb said.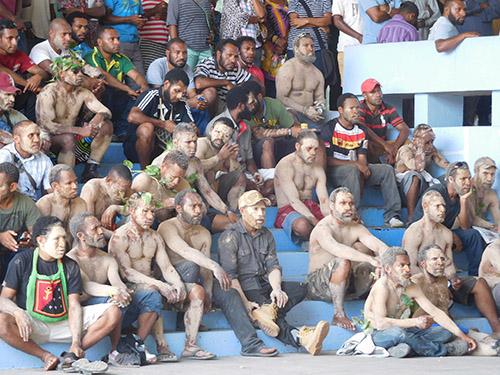 "We have called police in just now to, first stop the fight and evacuate the injured students.
"The student group is a small number, made up of Enga and Western Highland students who want to continue with the boycott, while some students from Eastern Highlands and Chimbu want to return to class.
"The situation escalated when there were serious disagreements between those who wanted to return to class and those that wanted to continue the boycott."
In Lae, an Engan student suffered knife wounds to his body after a fight broke out at the University of Technology's Lae campus yesterday afternoon.
The student was rushed to Angau General Hospital by the Unitech clinic ambulance and he was reported to be in a stable condition.Today the situation on the ground was quiet but tense.
Loop PNG was reliably informed by a student that the fight broke out at the conclusion of a student forum hosted by the Unitech administration and Student Representative Council.
The student, who wanted to remain anonymous for safety reasons, claimed the attack on the general student body by Southern Highlands students was preplanned.
Highlands unrest follows PNG police crackdown