Graphic student footage of police firing on protesters on Wednesday at the University of Papua New Guinea shows sustained gunfire and tear gas grenades being lobbed into the crowd. Opposition MPs have called for an independent inquiry with a Commonwealth chair. YouTube video: James Kua Apa
By Charles Yapumi in Port Moresby
Papua New Guinea's national airline Air Niugini yesterday cancelled its flight to Kagamuga Airport in the Highlands town of Mt Hagen after reports of civil unrest and closure of the airport by authorities.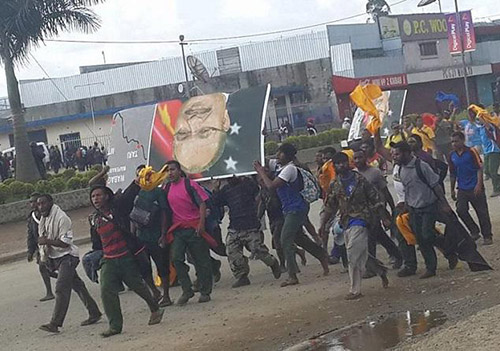 Loop PNG was informed in the morning by the state-owned airline's public relations office that all flights operated as per the schedule this morning.
But in a press release yesterday afternoon, Air Niugini PX 186/187 was cancelled because of the situation on the ground.
"Although some flights this morning were delayed as passengers and staff had difficulty getting to the airport on time due to yesterday's unrest, most Air Niugini flights operated as normal," the statement read.
PNG Air flights to Mt Hagen were also cancelled yesterday.
Meanwhile, Western Highlands Province PPC Jacob Singura said situation was still tense but police have taken control of the situation.
In other developments yesterday:
Opposition Leader Don Poyle welcomed the Prime Minister Peter O'Neill's decision but said the inquiry should be balanced and fair.
"I do not trust the police commissioner; I want highly placed people from Australia, New Zealand or England who have the same jurisdiction like [PNG] to chair the commission."
Poyle added that outside experts must be used to collect evidence and also give opinions.
Foreign Affairs secretary William Dihm said the visa status of the foreign correspondent in Port Moresby would need to be reviewed because of it, Pacific Media Watch reports.
Charles Yapumi is a reporter for Loop PNG.