Prime Minister Peter O'Neill says the confrontation could have been avoided in a statement to the nation on EM TV News tonight.
By Luke Kama of The National
Students at the University of Papua New Guinea claim they were assaulted and shot at by police "like criminals" when trying to stage a peaceful march to Parliament yesterday.
Students Representative Council president Kenneth Rapa told The National students were organising "a peaceful march to Parliament to demonstrate our concerns to the MPs who have been very ignorant on the national issues affecting PNG".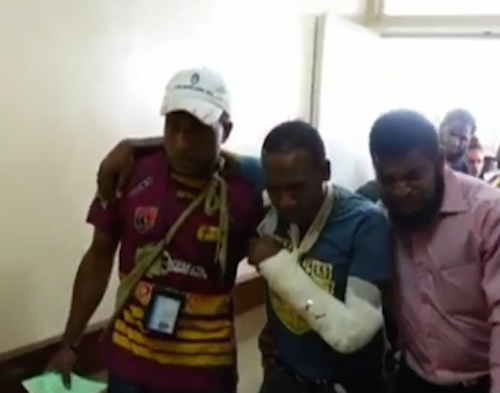 He said a stay order the SRC had obtained from the National Court last week stated that police were not supposed to stop students from holding any public forums or making public demonstrations".
"It said police will have to support the students in ensuring that any public forums held should be peaceful – and we have followed that," Rapa said.
"So when we tried to walk out of the university campus to Parliament, police were at the gate preventing us.
"We hadn't done anything wrong and we were wondering why police tried to stop us. We argued for almost an hour and National Capital District Metropolitan Superintendent Benjamin Turi tried to arrest me for leading the students."
He claimed that Turi came forward and grabbed his shirt to make the arrest, but the students pushed him back.
'Gunshots, tear gas'
"His police officers immediately fired several gunshots and tear gas at the innocent students protesting," he said.
"I was hit by a tear gas [canister] on my chest and I lost consciousness and was rushed to the dormitory. I don't know what happened thereafter," Rapa said.
He said police had reacted "as if we're criminals trying to rob a bank or a shop".
"Anywhere in the world where we have democracy, police have not reacted in such way to public demonstrations," he said.
There are other ways they could have reacted to control the protesting students."
Sally Pokiton of Loop PNG reported that the UPNG administration yesterday succeeded in obtaining a National Court order to restrain the members of the SRC from continuing boycott and protest action.
The order restrains members of the SRC, including president Kenneth Rapa and other students, from putting up barricades to block classrooms and lecture theatres, threatening and assaulting enrolled students and university staff.
Justice Collin Makail issued the restraining orders sought by the university only hours after the student confrontation with police, which saw 23 students taken to hospital for gunshot wounds and other injuries during the stand-off.
Three inquiries planned
Three different investigations will be carried out by three different organisations to establish the facts into the confrontation yesterday that led to students suffering injuries, Chief Secretary Isaac Lupari said.
In updating the National Security Advisory Committee today, UPNG vice-chancellor Professor Albert Mellam said the university would conduct its own investigations into what happened, Loop PNG reported.
The police will also conduct a separate investigation.
Police Commissioner Gari Baki said their investigation – apart from covering the shooting and the nature of injuries received by students – would also look into where protesting students had been getting their support from.
Baki said the police investigation will look into the conduct of the SRC president, Kenneth Rapa, and members.
Apart from these two investigations, the government would also establish a major one.
This government-sanctioned inquiry would also look into the "conduct of media houses in the country".
The UPNG Council today reaffirmed that the university would resume semester 1 classes next Tuesday as planned.