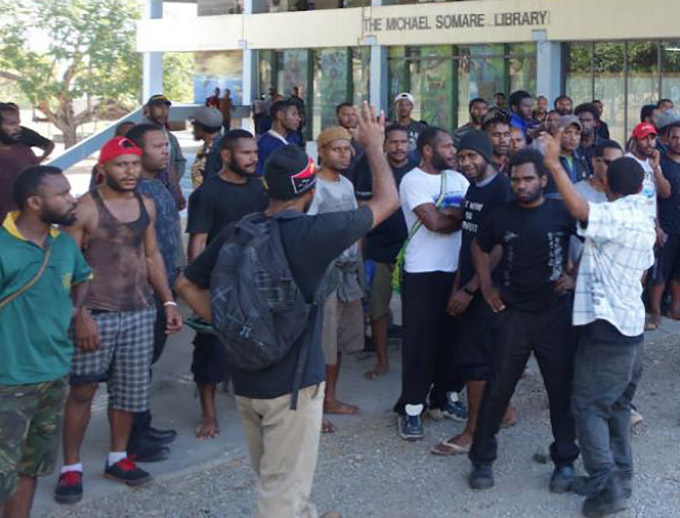 Reporters Without Borders (RSF) says it is appalled by a police attack on a woman journalist during a student demonstration that was dispersed violently on Wednesday in Port Moresby and has called on Papua New Guinea's authorities to put an end to such violence and punish the police officers responsible.
Several protesters were injured when police opened fire on the demonstration by University of Papua New Guinea students to press calls for Prime Minister Peter O'Neill's resignation, reports the Paris-based media freedom organisation in a statement today.
Alexander Rheeney, president of the Media Council of Papua New Guinea (MCPNG), said Rose Amos, a journalist with the National Broadcasting Corporation (NBC), was kicked and punched by police officers although she was wearing a shirt with the NBC logo.
"Amos ran towards the police for cover only to be punched by a heavily armed policeman and kicked by another, resulting in her losing her balance and falling," Rheeney said.
A third policeman punched her again until a senior police officer intervened and took her to a police vehicle.
"We condemn this assault on a journalist who was just doing her job and justifiably tried to seek protection by approaching the police," said Benjamin Ismaïl, head of RSF's Asia-Pacific desk.
"With police violence against media personnel on the increase, the prime minister cannot allow attacks on journalists to go unpunished, especially when they are providing coverage that serves the public interest. Swift measures must also be taken to ensure that such violence does not recur."
JSA condemns shooting
The Journalism Students Association at the Fiji-based University of the South Pacific also condemned the violence in a statement released today.
Two NBC reporters and a woman journalist with the digital channel TV Wan were attacked by a plainclothes police officer in a police station in the Port Moresby suburb of Boroko on June 1 while covering the arrests of students suspected of being inebriated.
Papua New Guinea is ranked 55th out of 180 countries in RSF's 2016 World Press Freedom Index but journalists are harassed by Prime Minister O'Neill's government.
The government's announcement in November 2015 that it was creating a special media tribunal to deal with "deliberate misinformation, spreading of falsities and malice," as the communications minister put it, increased the likelihood of media self-censorship.