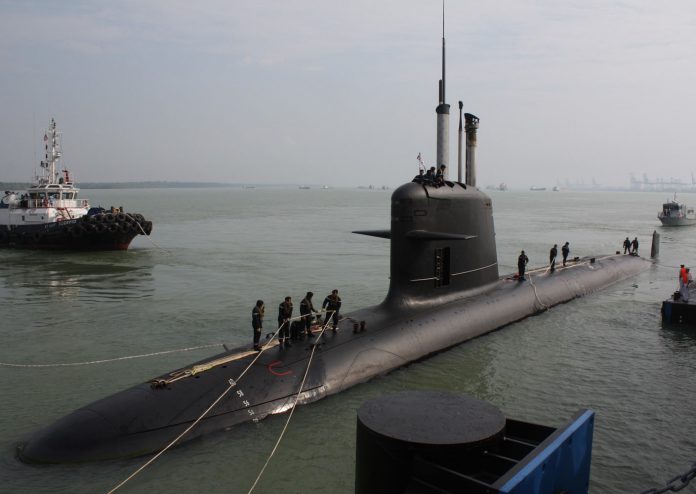 By Prashanth Parameswaran of The Diplomat
A local Indonesian shipbuilder has formed a formal working group with a French company to explore Jakarta's submarine requirements in what could be a further sign of the country's interest, according to IHS Jane's citing industry sources.
IHS Jane's reports that Indonesian shipbuilder PT PAL has been in a formal working group with French firm DCNS under a government-to-government framework between France and Indonesia since March. The group includes representatives from the public and private sectors.
Indonesia, the world's largest archipelagic state, currently only has two German-built Type 209 submarines, even though defence officials say Jakarta needs at least 12 submarines by 2024 to police its waters.
Indonesia has been mulling a new submarine purchase, and DCNS has been wooing Jakarta by both offering the new French-built Scorpene 1000 diesel-electric submarine as well as a combat system to repair and overhaul Indonesia's existing German submarines.
Last October, DCNS revealed at the 2015 Pacific International Maritime Exhibition in Sydney that Indonesia and France had entered government-to-government talks.
The report of a new, formal working group suggests that Indonesia still has not dismissed these offers entirely. Indeed, IHS Jane's quotes an industry source as saying that the working group is exploring various issues including the need for a multipurpose submarine that can operate in both deep and shallow waters, with its work being concluded in about a year.
Shallow waters
DCNS has repeatedly pointed out to the Indonesian government that the Scorpene 1000 is suitable for the country because most of its waters are shallow.
It is unclear how exactly this working group will affect Indonesia's existing submarine plans. Indonesia already has ordered three South Korean submarines back in 2012 that are expected to arrive in 2017.
Jakarta had also previously indicated that it would procure two Kilo-class submarines from Russia, though there have been no reports thus far about the finalisation of a deal.
Indonesia's neighbor Malaysia already has a pair of Scorpene-class submarines from France. DCNS also recently won the bid to build Australia's new submarine fleet.
Prashanth Parameswaran is an associate editor of The Diplomat where this article was first published.