The trailer for The Suffragettes movie.
By Dan McGarry in Port Vila
Vanuatu's Justice Minister Ronald Warsal has announced that earlier this week the Council of Ministers had approved a constitutional amendment to allow for reserved seats for women in the National Parliament.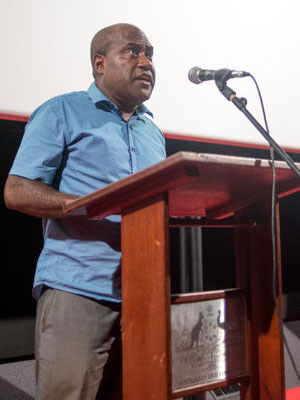 Warsal was speaking at Tana Ciné before a screening of the movie The Suffragettes sponsored by the Australian High Commission.
The film recounts the story of British women's struggle to get the vote in the early years of the 20th Century. The screening was held to commemorate Vanuatu National Women's Day.
In his speech, Warsal said that approval for the amendment came during last Monday's meeting of the Council of Ministers. He said he expected a bill to amend the Constitution would be ready for the upcoming Parliament, which is scheduled to begin on June 10.
The announcement was met with surprise and spontaneous applause from a receptive audience, which included many women leaders, as well as representatives from the diplomatic corps and local NGOs.
Still to be answered are questions concerning the number of seats to be reserved, whether they will be added to the 52 existing seats, or whether they will be taken from the current number.
Likewise, it's not yet known whether women will share existing constituencies with male MPs, and if so, how many will represent each one.
Dan McGarry is editorial director of the Vanuatu Daily Post.