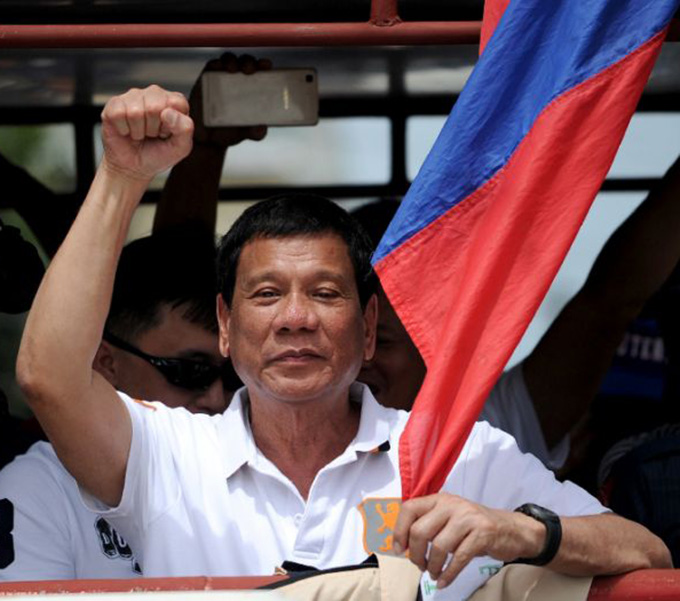 The Philippines will need to wait for nearly all of the ballots to be transmitted to see whether former dictator Marcos's son Ferdinand "Bongbong" Marcos Jr is going to snatch a tight vice-presidential race and pull off a remarkable political comeback for his family.
At the moment, he is trailing with less than 200,000 votes – 1 percent of the vote – separating him from establishment reformist Leni Robredo, who seized his early lead with a late surge of votes in rural areas.
Anti-establishment firebrand Rodrigo Duterte is set to have secured a huge presidential win after an incendiary campaign dominated by his profanity-laced vows to kill criminals.
Duterte, 71, the longtime mayor of the southern city of Davao, hypnotised millions with his vows of brutal but quick solutions to the nation's twin plagues of crime and poverty.
Many believed the outgoing Aquino administration had failed to tackle these issues in spite off strong economic growth in recent years.
Duterte had a commanding lead over his four rivals with more than 38 percent of the vote.
He vowed that he would be a "dictator" against evil and that he would step down in six months if he failed to stamp out corruption.
"I will be strict. I will be a dictator, no doubt it. But only against forces of evil — criminality, drugs and corruption in government," Duterte said in his hometown of Davao.
The unofficial tally late yesterday, was showing less than 93 percent of the total votes cast with Robredo, leading Senator Marcos by less than 200,000 votes
"It could easily shift… It's less than one percentage point, which means we need 99-point-something [to see who is going to win]," Pulse Asia reasearch director Ana Tabunda said in an interview with Rappler.
Tight race
It's higher than Tabunda's earlier projection that a 97 percent transmission rate of the voting results will already show a winner in the tight race. Marcos previously led Robredo by 3 percentage points.
The camp of Marcos has warned of electoral cheating, noting that Robredo's numbers rose late Monday night when people were supposedly not watching the results. They want the transmission of the results suspended, claiming that it is misleading people into thinking that Robredo is winning the race.
But Tabunda said she expected the late rise of Robredo's numbers because of the demographics of her supporters.
Surveys showed that Marcos was stronger in urban areas, which were the first ones to transmit their results. Results from rural areas, where Robredo has more supporters, came in later because of slower internet connections.