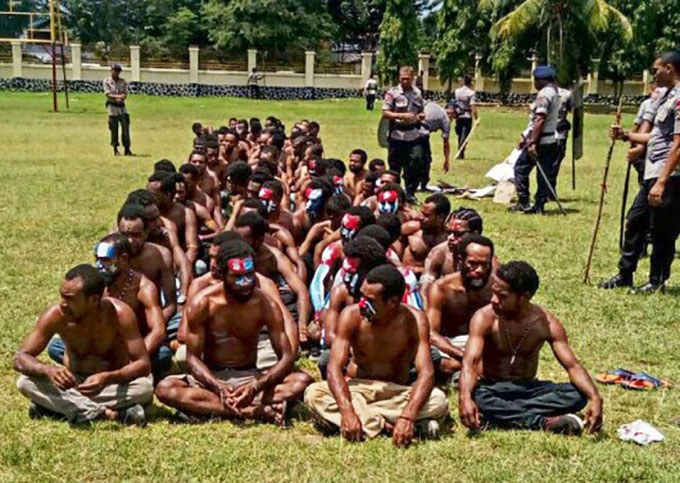 By Nethy Dharma Somba in Jayapura
Human rights advocates in Papua have slammed the arrest of 1888 students and activists who were carrying out a peaceful rally last Monday to support the United Liberation Movement for West Papua's campaign to gain full membership of the Melanesia Spearhead Group.
They said the arrests revealed Indonesia's paradoxical attitude toward democracy and human rights.
"During his visit to Papua to release five political prisoners in 2015, President Jokowi said he would open democracy up as widely as possible in Papua," said Ferdinand Marisan, director of rights group Elsham Papua.
"However, the stifling of that aspiration has been continuous. Indonesia is widely acclaimed as Asia's biggest democratic country, but in Papua, voicing your aspirations is prohibited."
According to Elsham Papua, the difference between what the government has stated and what it has done reveals the paradox in Indonesia's democracy and its upholding of human rights.
"Efforts by the government to uphold human rights, and its statements on freedom of expression, are aimed at merely creating a good image because the silencing of [opinions] has continued to happen," Marisan said.
Gustaf Kawer, a law practitioner in Papua who often gives legal assistance in cases involving self-determination, said the stifling of voices in the province, where many want to become independent from the Unitary State of the Republic of Indonesia (NKRI), was getting stronger and continued to affect more and more Papua residents and youths.
'We cannot be silenced'
"Last year, only hundreds of Papuan people were arrested for [protesting] for freedom, or separation from Indonesia. Now more and more people are being arrested and last week, around 1000 people were arrested and taken to the Mobile Brigade [Brimob] Kotaraja headquarters," said Kawer.
"People's aspirations cannot be silenced. The harder they try to silence us, the stronger we will voice our aspirations," he said.
The arrest of 1888 Papuan residents, he continued, was in violation of human rights and various laws that ensured freedom of expression.
As reported last week, during the commemoration ceremony for National Education Day on Monday, West Papua National Committee members staged a rally, rejecting the integration of Papua into Indonesia, a move which was was formalised on May 1, 1963.
Security  forces arrested the protesters and took them all to the local Brimob headquarters in Kotaraja, Jayapura, where they were held in a field at the headquarters from 9 am to 7.30 pm local time in hot sun.
Papua police chief Inspector General Paulus Waterpauw said the activists were arrested because the police had not issued a permit for the rally, adding that they were prohibited from staging any rally in support of "separation" from Indonesia.
Several demonstrators were reportedly beaten and journalists were not allowed to cover the arrest.
Repressive measures regretted
Papua Legislative Council Speaker Yunus Wonda regretted the repressive measures used by security officers.
"The police should have taken a persuasive approach in guarding the [rally]. If the arrests happened because they were voicing their aspirations, democracy in Papua is being silenced," said Yunus.
Elsham Papua considers the government not serious about resolving human rights violations in Papua. Though many rights violations have occurred in Papua, only one case has been brought before the human rights tribunal, and the perpetrator in that case released.
"Human rights violations in Papua have continued to occur and none of them have been resolved. There is no government willingness to properly resolve the cases, which leads the people to lose their trust in the government because there is no justice for victims," said Marinas.
Elsham Papua has made three recommendations following the incident. First, it has called on the Pacific Islands Forum to dispatch a fact-finding team to Papua to meet with victims of human rights violations, which have been occurring since May 1, 1963, and continue today.
Second, it calls on UN member countries, international human rights organisations and all networks in support of upholding human rights to also establish a fact-finding team.
Elsham Papua expects this team to visit Papua before the UN Human Rights Council conducts its Universal Periodic Review in 2017.
Third, Elsham Papua calls on the government to be ready and willing to cooperate with neutral third parties in carrying out an investigation on human rights violations in Papua.
The investigation, the rights groups states, should not involve the Indonesian military or the national police, two institutions that it claims have often committed human rights violations in Papua.