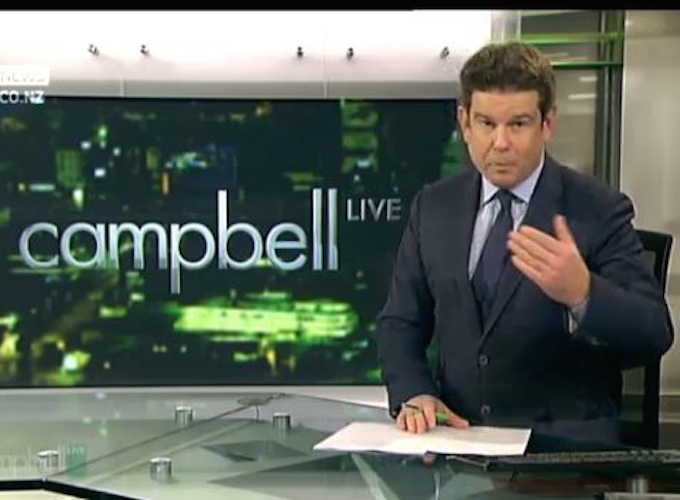 OPINION: By Murray Horton
It was one of those fascinating contradictions of capitalism that the foreign-owned TV3 always took its journalistic obligations more seriously than the state-owned Television New Zealand.
Sadly that didn't, and couldn't, last (which doesn't imply any improvement in TVNZ; simply that TV3 sank to the same level).
And the man who did the sinking was the now ex-CEO Mark Weldon. He enthusiastically applied himself to the task of converting TV3 to a sewerage farm with a most impressive output of the old proverbial.
MediaWorks, the company which owns TV3 as part of its media empire, was one of six finalists in the 2015 Roger Award for the Worst Transnational Corporation Operating in Aotearoa/New Zealand (the winner was announced on April 30).
To quote from what we wrote when the finalists were announced, back in December 2015:
"MediaWorks was another making its first appearance in the Roger Award, specifically for TV3 killing off Campbell Live. 'The grounds for nomination are political interference, by killing off the only current affairs show anywhere on television that actually took seriously its mission to be the voice of the people and to hold the powerful to account.' And considering that TV3 replaced John Campbell with rightwing mouthpiece Paul Henry, another ground for nomination is running an ideological crusade.

"The New Zealand Herald article headline 'Campbell's crusades irked TV3 bosses' (23 May 2015) puts it in a nutshell. The article says that TV3 management considered that the show 'over-emphasised charitable fundraising, and coverage of the aftermath of the Christchurch earthquake, GCSB spying and child poverty' (as well as subjects like Pike River).
"There was plenty of evidence that not only did Campbell Live piss off TV management but also senior figures among the directors with close connections to the Government and the Prime Minister.
"To add insult to injury, Campbell Live was, at first, replaced by yet another Australian police reality show, then by a cooking show. And MediaWorks has not stopped there in its relentless drive to kill off current affairs and any kind of serious news. More recently it has announced it is shutting down its newly created 3D current affairs show (which led to a fightback from its journalists).
"MediaWorks has moved in a heavy-handed fashion to extend the dumbing down of its programmes into the one remaining area (news and current affairs) that had previously stood in sharp contrast to the rest of the dismal crap produced by either major NZ network.
"It falls nicely into the playbook of capital's inherent compulsion to provide a lowest common denominator market for advertisers".
MediaWorks didn't win the Roger Award (the Judges Report is at CAFCA). It didn't even get into the top three. That simply shows what fierce competition there is in the transnational corporate race to the bottom.
The Roger Award includes an Accomplice Award. But that is only for New Zealand organisations or institutions, not individuals. Otherwise, Mark Weldon would have been a very strong contender.
So now, the poopmeister has gone. And good riddance too, from both viewers and his long suffering work force.
As a former Olympic swimmer, Mark Weldon would be very familiar with the axiom "to sink or swim". He has sunk, but it remains to be seen whether he has taken TV3 with him.
Murray Horton is the secretary/organiser of the Campaign Against Foreign Control in Aotearoa (CAFCA).