"Guns, goons and the presidency", a current affairs video about Rodrigo Duterte, the leading candidate in the Philippines elections on Monday. Video: Al Jazeera's 101 East
An environmentalist who received "death and rape" threats from supporters of presidential candidate Davao City mayor Rodrigo "Rody" Duterte has filed an election offence case at the Commission on Elections (Comelec).
Human rights defender and climate advocate Renee Juliene Karunungan was prompted to file a case this week against 20 supporters of Duterte, after she was cyberbullied when she aired her opinion against his candidacy online.
She stressed that cyberbullying is a violation of basic rights and a threat to democracy.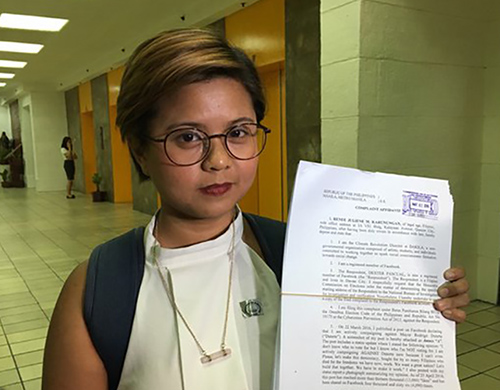 Karunungan said she was subjected to death and rape threats after posting a meme saying "Duterte is a lazy choice" on March 22.
But she only discovered the threats of rape, physical violence, and harassment upon checking her inbox on April 7, when she found 200 "filtered" Facebook messages.
After learning of the threats, Karunungan posted screenshots of the hate messages on April 7, which later on became viral.
'No laughing matter'
She said she hopes people will be able "to reflect on their behavior be responsible and respect the rights and dignities of fellow citizens that's why she filed the case."
"Online threats of murder, rape, serious physical injuries are no laughing matter. These constitute crimes under the Revised Penal Code, Cybercrime Law and the Omnibus Election Code. These kinds of criminal behavior need to stop. For this reason, I have decided to file criminal cases against those who have sent me threats," Karunungan said.
"My rights offline are the same as my rights online. There is a difference between freedom of speech and speech that incites violence. It is time that people know the difference.
"We should not condone violence, especially on the basis of political views. This kind of behavior is unacceptable and is a threat to our democracy and violates our basic rights," she added.
Karunungan's lawyer, Rowena "JJ" Disni, said the Constitution protects the freedom of all citizens to engage in debates and discussions involving political views. However, he said freedom of speech does not allow committing crimes against each other.
Disni clarified that the case was not against any candidate but against the supporters to remind them of respecting the rights of people to free speech.
'Sober discussions'
"We should as a society encourage sober online and off-line discussions about important issues such as the choice of who will lead the country.
"We do not wish to punish any candidate's supporters but to remind or citizens as they play their role in the political arena, they should not cross the line to committing crimes," Disni said in a media statement.
Duterte's camp, through spokesperson Peter Lavina, earlier asked the mayor's supporters to "take the moral high ground and take caution in social media" and "to stop bashing and threatening journalist as well as all who express views different" from theirs.
Aside from the Comelec, Karunungan also filed criminal charges before the Department of Justice.
Her move to file election offence and criminal raps against supporters of Duterte was supported by human rights groups Task Force Detainees of the Philippines, Medical Action Group, and Dakila.
Rosette Adel is a Philippine Star journalist. This article is republished from the Philippine Star.