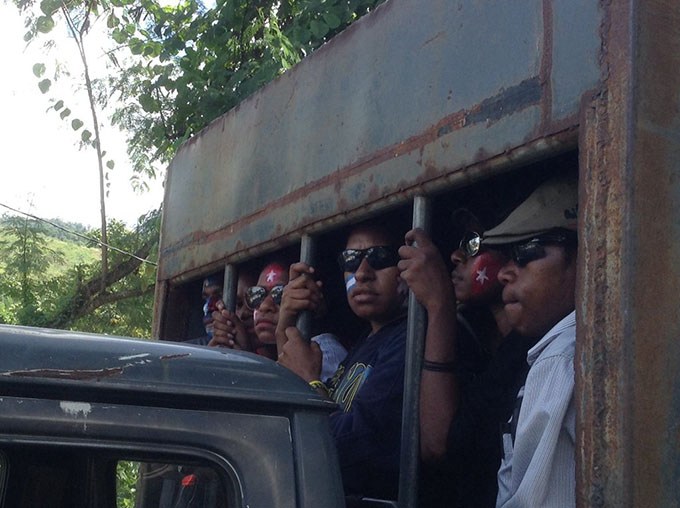 The Asian Human Rights Commission has learned from national and local sources that on May 2 police officers arrested in total 1724 indigenous Papuans who took part in a peaceful protest in Jayapura and other cities in Papua.
The protesters came from various Papua districts, to support the United Liberation Movement for West Papua (ULMWP) becoming a full member of the Melanesian Spearhead Group (MSG), a regional forum in the Pacific.
Moreover, the protesters also gathered to commemorate integration of Papua into the Republic of Indonesia, on 1 May 1963, though the integration remains a questioned one for many indigenous Papuans.
Under President Joko Widodo, the human rights situation in Papua and West Papua provinces has yet to show any progress, the AHRC said in a statement.
Fundamental problems remain, such as lack of law enforcement, and the lack of accountability amongst security forces. In the last one year, the AHRC reported and documented several cases in Papua, for instance the excessive force being used on April 5.
Then there is the case on torture against three indigenous Papuans, which occurred on 27 August 2015. Not only in Papua, local indigenous Papuans were also arrested when they were involved in and conducted peaceful protests in Jakarta, as reported by Just Asia AHRC TV episode 101.
Despite the protesters being released after their being interrogated by the police, circumstances have proven that the government has yet to change its policy on Papua. The government's commitment to solve problems in Papua peacefully, through dialogue, has never been formally admitted or followed.
Civil society initiatives
Dialogue initiatives are usually organised by civil society organisations and churches.
Under President Widodo's administration, the government has tended to prioritise the development of public infrastructure to boost either national or international investments in Papua. However, such a policy does not really bring benefit for local indigenous.
It benefits non-indigenous Papuans who have been living in Papua for many years. Furthermore, the development of public infrastructure in Papua will potentially trigger other problems, such as land grabbing and the migration of more people from outside the Papua.
Considering the situation in Papua, the AHRC calls upon the government of Indonesia, to consider the following:
The government must prove its commitment to solve human rights problems in Papua and ensure protection for local indigenous Papuans without any discrimination and extreme restriction;
the government of Indonesia, as a member of the Human Rights Council, and having already ratified several key international human rights instruments, such as the International Covenant on Civil and Political Rights (ICCPR), must ensure its policy is in line with the covenant; and
the government must stop judicial harassment against local indigenous people, and show its commitment and seriousness to establishing peaceful dialogue without undue delay.