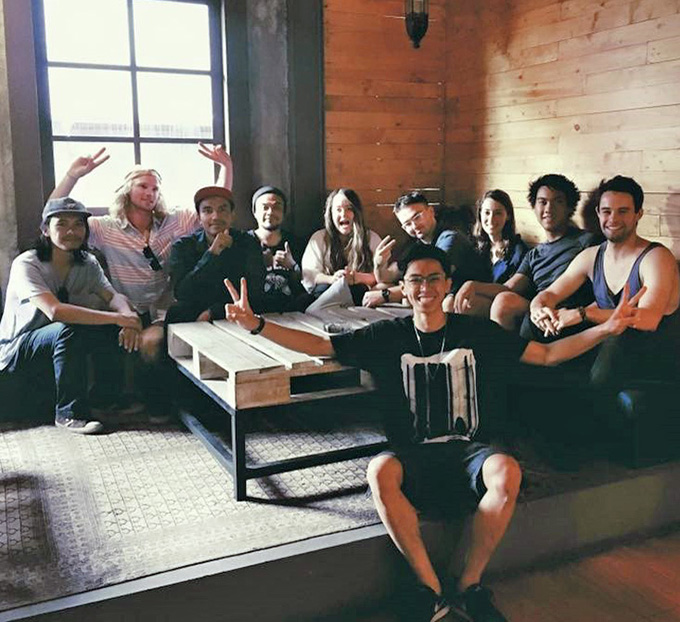 Journalist Michael Neilson spent six weeks earlier this year at The Sydney Morning Herald in Jakarta, Indonesia. He describes his time working for the paper and what he took from the experience.
Journalism is a great way to combine two things I love – politics and travelling.
For a fresh journalism school graduate like myself, the prospect of completing an internship in Jakarta at The Sydney Morning Herald was a dream situation.
Locals call Jakarta "the big durian". Much like the intensely sweet fruit, Jakarta also has a spiky exterior and pungent scent. It is a hard city to love, yet for those that persevere, the city has many hidden treats.
The spikes of Jakarta are its sheer size, air pollution and haze, insane traffic at all hours of the day, lack of walkable footaths; all of it compounded by the sweltering heat.
In my six weeks there I can definitely relate to many of the "spikes", but found with a bit of time and effort getting to know the city, I came to love it.
Learning the basics of Bahasa Indonesia made the small tasks of ordering nasi goreng from a "kaki-lima" (street vendor), or riding a Gojek (an Uber-like motor-taxi) a thoroughly enjoyable experience.
Friendly chat
Some of my fondest memories are of simply walking down the street and being stopped by groups of people for a friendly chat/selfie.
At the SMH, I was fortunate enough to work alongside the experienced and Walkley journalism-award-winning team of Jewel Topsfield and Karuna Rompies (Runi).
Not only was the advice on my own journalism invaluable, but simply to be in the same office as them, as they wrote and broke some very important stories, was an inspiring experience.
For one of my stories, I decided to take on a "taboo topic": LGBT rights. I was fortunate enough to interview some brave students at the centre of a "witchhunt", after they founded a LGBT support group on their university campus.
The process of researching and writing the story encapsulated many of the challenges I faced, not only journalistically, but culturally.
Jakarta attacks
Of all the experiences in Jakarta, there is obviously one that stands out – the Jakarta attacks, that took place on Thursday, 14 January.
When we arrived in Jakarta, there was already a heightened sense of security, with warnings from our programme coordinators about staying safe.
As an aspiring journalist, I'd be lying if I said the thought of an attack didn't excite me, at least a little bit. So when four gunmen, two strapped with explosives, attempted to replicate the Paris seige, instead of panic, I felt adrenaline.
I looked at an Australian journo buddy and said, "I'm keen if you are."
My cellphone had been going off before I had even read the news reports, with media outlets back home desperate to get a "Kiwi perspective". This was our chance.
Sadly for us (and probably fortunately), we were to remain in our Bahasa Indonesia classroom, prohibited by our coordinators from leaving.
As is often the case, being Kiwis was a great asset for Anna (the other intern) and I. In the third week we were invited to a dinner at the residence of Stephanie Lee, the New Zealand Ambassador to ASEAN (Association of Southeast Asian Nations).
NZ relations
Then in our second-to-last week, Anna and I caught up with New Zealand Ambassador Trevor Matheson for coffee at the Embassy. Those were great opportunities to get an insight into New Zealand's relations with Indonesia.
The ACICIS course also played a vital role in introducing us to Indonesia. Rather than going straight into newsrooms, the course gave us a two-week crash course in everything Indonesian; from the language to the depths of "Pancisila", Indonesia's national doctrine.
Speakers came in from all parts of Indonesian civil society – politicians, journalists, human rights activists, academics – and we were able to ask them questions in an open seminar setting.
Many of the people who did the course with me became great friends and will be sure to keep in touch as we enter the professional stages of our lives.
My six weeks in Jakarta was an incredible, eye-opening experience. Jakarta can be an intimidating city, but mastering small things like Gojek and learning a bit of Bahasa will go a long way in making it an enjoyable experience.
Michael Neilson, an AUT University postgraduate journalist who did the Asia-Pacific Journalism course at the Pacific Media Centre, worked at The Sydney Morning Herald as part of the 2016 Australian Consortium for In-Country Indonesian Studies (ACICIS) Journalism Professional Practicum in Jakarta. Asia New Zealand Foundation funded his participation in the programme and this article was first published on the foundation's website.