TJ Aumua reflects on her PCF exchange scholarship in Fiji last year. PMC video
Auckland University of Technology honours graduate journalist TJ Aumua has been appointed contributing editor for the Pacific Media Watch freedom project in 2016.
Aumua says she is grateful for the opportunity to serve the region because the Pacific Media Centre has helped shape and direct her career while studying journalism at university.
"I have been a contributing writer for PMC since 2013. During that time I have learned a lot about Pacific issues and media from the PMC director, Professor David Robie."
Aumua said the PMC had helped her find her "niche" in journalism.
Passion for the Pacific
"I have a passion for the Pacific and raising the presence of indigenous and minority voices in the media," she says.
"I am constantly learning new ways of doing this at the centre, so I'm excited about the opportunities ahead in this position.
"And I am eager to get stuck into stories to contribute to the PMW project this year.
She succeeds last year's PMW editor Alistar Kata who is now working for Tagata Pasifika.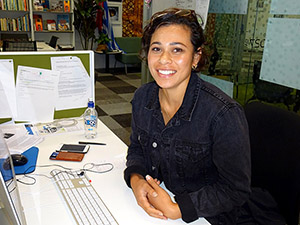 Aumua was last year in Suva on a two-week Pacific Cooperation Foundation-funded exchange with Fiji news media and Fiji National University.
She is returning to Fiji later this month on a climate change project with the University of the South Pacific journalism programme.
Current AUT student journalists or immediate past graduates are appointed annually to the part-time role as PMW editor.