By Shayal Devi of The Fiji Times
Fiji's coastal district of Nakorotubu, Ra, which includes more than 10 villages and a population of more than 5000 was completely flattened by severe tropical cyclone Winston.
Describing the situation in the province as "ugly", Commissioner Western Manasa Tagicakibau said initial assessments indicated all homes were destroyed.
"Initial reports state that all homes were blown away," he said.
A total of 275 evacuation centres are now active in the Western Division, providing temporary shelter to 22,181 people and the death toll has risen to 42.
Ra, one of 14 provinces of Fiji,  northern area of the largest island, Viti Levu, has 91 evacuation centres, the highest in the division. The Yasawa islands are just off the northern coast.
The Emergency Operations Centre in the west has not been able to collate data on the number of evacuation centres and evacuees in maritime zones.
As a result, the Emergency Operations Centre (EOC) in the Western Division has redirected all manpower and resources to the Ra province.
He said the EOC had established communication with heads in Nakorotubu and a team was sent to the province to assess damage.
Brienfings 'not good'
"The briefings were not good," he said.
"Ra is an ugly situation and even the EOC team were victims of TC Winston."
Forty one villages in the province have yet to report their status to the Ra provincial administrator's operation team in Rakiraki.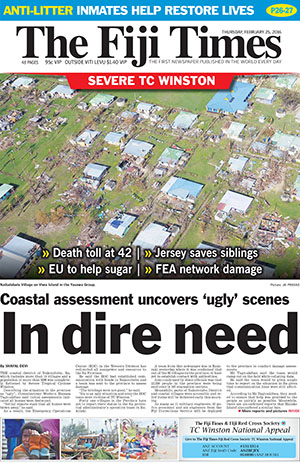 A team from the Fiji Times was in Rakiraki yesterday where it was confirmed that out of the 93 villages in the province, 41 have yet to establish contact with authorities.
Also confirmed by state officials was that 12,339 people in the province were being sheltered in 107 evacuation centres.
Meanwhile, parts of Nakorotubu District and coastal villages were accessible and relief items will be delivered today.
Up 11 military engineers, 10 police personnel and six engineers from the Fiji Corrections Service will be deployed to the province to conduct damage assessments.
Camp out
Tagicakibau said the team would camp out on the field while collating data.
He said the team would be given ample time to report on the situation in Ra given that communication lines were still affected.
According to Tagicakibau, they needed to ensure that help was provided to the people as quickly as possible. Meanwhile, there are unconfirmed reports that Malake Island also suffered a similar fate.