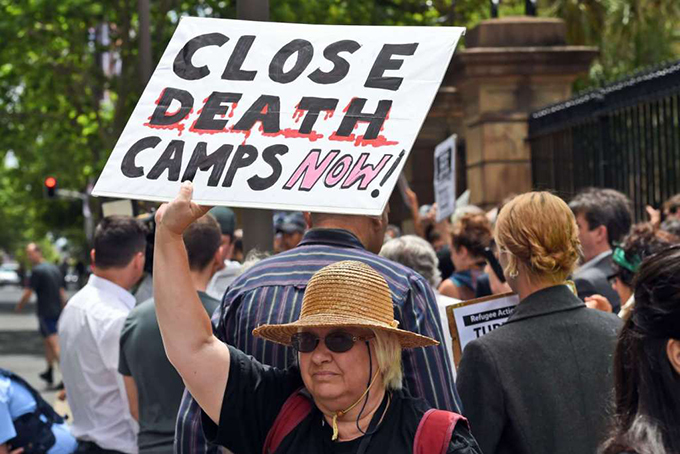 From ETAN/The Straits Times
By Jonathan Pearlman in Perth
Australia has adopted some of the world's toughest policies against refugees in recent years and will not relent despite criticisms over measures such as towing boats back to Indonesia and transferring all arrivals by sea to remote Pacific Island detention centres
The controversial approach has been aimed at preventing the flow of asylum seekers who attempt the risky voyage to Australia from transit camps in Indonesia.
In a heavy-handed approach that has damaged relations between Canberra and Jakarta, the federal government has warned that "any people smuggling boat … will be detected, intercepted and safely removed".
"(Australia) will continue to stop anyone who attempts to come illegally by boat – regardless of where they are from," Australia's Department of Immigration said in a recent publication on its website.
Australia's Navy and Customs vessels seek to intercept boats carrying asylum seekers before they reach Australian waters and force them to turn back, sometimes providing fresh lifeboats.
Australian officials have allegedly paid some people smuggling crews to head back to Indonesia – a move that experts say is illegal under international law. Canberra has refused to comment on the allegations.
Those migrants who make it to Australia by boat are transferred to remote island detention centres in the Pacific island nation of Nauru, or on Manus Island in Papua New Guinea. As of the end of last October, there were 621 detainees in Nauru, including 95 children, and 929 on Manus Island.
Failed deals
Australia has attempted to strike various deals with nations across the region to accept these detainees but the efforts have largely failed.
Cambodia agreed to take refugees from Nauru in return for about A$40 million from Canberra in increased aid. But just five migrants took up the offer to move to Cambodia and one of them – a Myanmar Muslim – reportedly ended up moving back to Myanmar.
Numerous other countries across the region have been proposed as possible venues for resettlement, including Malaysia and East Timor. The latest discussions have apparently focused on the Philippines.
Australia's controversial approach has been heavily criticised as unlawful and cruel by the United Nations and human rights groups but has proven brutally effective.
Following the adoption of the harsh tow-back policies by former Prime Minister Tony Abbott after he was elected in September 2013, the flow of asylum seekers all but stopped. There were 17,204 arrivals by boat in 2012, 20,587 in 2013 but none in 2014.
Current Prime Minister Malcolm Turnbull has insisted he will follow Mr Abbott's tough approach but acknowledged that the consequences of the policy were "harsh".
'Harsh policy'
"We do have a tough border protection policy, you could say it's a harsh policy, but it has worked," he said after becoming leader in September.
"It is tough, but the fact is we cannot take a backward step on this issue."
Canberra has insisted its tough approach was aimed at ending deaths at sea following numerous tragedies in which rickety boats sank while attempting the passage from Indonesia to Australia.
Responding to criticisms last year, Immigration Minister Peter Dutton said the government could not "stand idly by in the face of these repeated tragedies".
"Our policies are lawful. They are safe. And they work," he said in a statement in September.
"They save lives. They reduce the risks run by our border protection personnel. And they have stopped the evil people smuggling trade to Australia."
During a session of the UN Human Rights Council in November, Australia's approach came under heavy criticism from numerous countries.
Security ally
Australia's closest security ally, the United States, urged Canberra to promote "humane treatment and respect for the human rights of asylum seekers", including those processed offshore in Papua New Guinea and Nauru.
Despite its hardline approach to boat people, Australia accepts large numbers of refugees under its humanitarian programme.
The government has agreed to take 12,000 refugees fleeing Syria and Iraq this year, in addition to its current annual intake of 13,750 people.