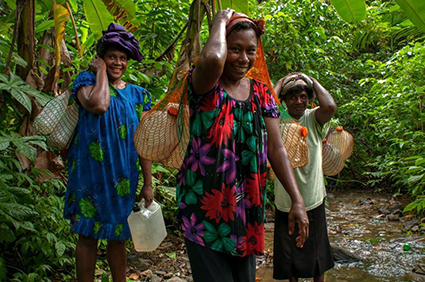 Report by Pacific Media Centre
Thousands of children in Papua New Guinea are currently receiving little or no education because of a severe drought making drinking water scarce, reports Ida Brock of Asia-Pacific Journalism.

Children playing in the schoolyard is an increasingly rare sight in Papua New Guinea these days.
The country is currently battling a severe El Niño-driven drought which is leaving the country low on drinking water, says Dr Mike Bourke from the College of Asia and the Pacific at the Australian National University.
He has recently been in Papua New Guinea to assess the situation.
"Right now, the immediate impact from the drought is on water for drinking and washing. That affects the schools. Tens of thousands of school children are not at school at the moment," he says.
The closing of schools has also been noticed by disaster manager and emergency coordinator Wonesai Sithole from the International Organisation for Migration (IOM).
"The schools are low on students because the flow of water is decreasing. Many of the schools are only running half days. But it's only in the areas directly affected by the drought," he says.
However, the closing schools aren't the only drought consequences that are impacting on the lives of PNG villagers, according to Dr Bourke.
"We are also starting to see an increase in diseases such as typhoid and diarrhoea. Later, we can expect to see dysentery and an increase in malaria.
The malaria increases because the streams stop flowing and become little stagnant pools instead. That allows the mosquitoes to breed more and we end up having malaria in places where we usually never see the disease," he says.
Frost hits food crops
The first sign of a lengthy drought creeping in on Papua New Guinea came when the country's Highlands got hit by frost.
That happened because the El Niño messed up the normal weather systems, explains meteorologist Tom Di Liberto from the Climate Prediction Center at National Oceanic and Atmospheric Administration (NOAA).
"Normally, we have trade winds in the Pacific Ocean that blow from east to west, but during an El Niño those winds weaken or even stop. That causes a reduction in cloud cover, and less rain," Di Liberto says.
The reduced number of clouds make the land cool down faster overnight giving more frost days than usual The frost is a big issue in Papua New Guinea, because it attacks food crops like sweet potatoes located in the higher parts of the country.
And the dying crops are tremendously disruptive for the country, Dr Bourke says.
Frost struck many high altitude locations above the 2000m altitude in July and they struck again in mid-September.
"More than 80 percent of all calories consumed in Papua New Guinea are grown there, so when people stop producing because of the frost, many rural people are short of food."
The last time Papua New Guinea experienced such a bad drought was in 1997. Back then, the people changed their economical behaviour to survive; and this impacted on people's already challenging financial situation.
"The people used their savings or sold their pigs for a low price, just to get some money to buy food. As well, many urban based people sent cash or food to relatives in rural places," Dr Bourke explains.
However, the lack of food will not only cut into Papua New Guinean's bank accounts; it will challenge the entire country's economy.
According to a situation overview made by IOM on September 11, it will cost 35 million kina (NZ$22 million) to bring food to the affected families during the next four months.
"The government of Papua New Guinea has so far disbursed K5 million and pledged another K25 million for emergency assistance," it also says in the situation overview.
What to expect
But the fact that Papua New Guinea experienced a severe drought only 18 years ago can be a positive upside to how the people handle this one, Dr Bourke says.
"Most adults in Papua New Guinea now were alive in 1997 so they know what to expect having lived through the big drought in 1997."
IOM is working with the affected families to make sure they have the right tools to deal with for example health issues following the drought and food shortage.
"The main issue at the moment is water conservation and health and hygiene promotion. We are also trying to teach the people how they can work with the water, they have. How they clean it," Sithole from IOM says.
The next step, according to Sithole, is to provide food assistance as quickly as possible to the affected areas and to provide clean water for those who are running low.
"We need to show the people how they can preserve the available food and how to supplement that with food aid. And then we need to work with the schools to make sure that there's water available so they can function properly," he says.
El Niños are alike
However, there are signs that this El Niño can end up being even worse than the 1997 event. At present it has already shown incredible strength according to Tom Di Liberto from NOAA.
"We are continuing to see this El Niño strengthening. It's already pretty significant compared to similar events going back to the 1950s. There has only been two previous events that have been stronger at this time and one of them was in 1997," he says.
If the drought ends up being longer and stronger than the one in 1997, it's difficult to prepare properly, according to Dr Bourke.
"If it's as bad as in 1997, we can make some fairly good predictions as to who will be most affected, what locations, how many people and so on. But if it's worse than 1997, we're in unknown territory."
Adding to that, it's almost impossible to predict how the El Niño will develop. Tom Di Liberto from NOAA says, it might end up acting completely different than the one in 1997.
"No two El Niños are the same. They develop in the midst of the already chaotic weather of mother Earth and that makes each El Niño unique."
However, the government is providing as much help to the affected areas as it can, Papua New Guinea's honorary Consul-General in New Zealand, Dr Peter Goldsmith, says|
.
"At this in time, it's reasonable to expect that rain will come. The government is addressing the issue in terms of providing the support it can provide. The Natural Disaster Office is recognising that there is a problem. And it will continue to provide the support needed," he says.
It is not known exactly how many people are affected by the drought. The numbers go from around 300,000 people up to one million.
Ida Brock is a Danish student journalist reporting for the Pacific Media Centre and the Pacific Scoop on the Asia-Pacific Journalism Studies paper.