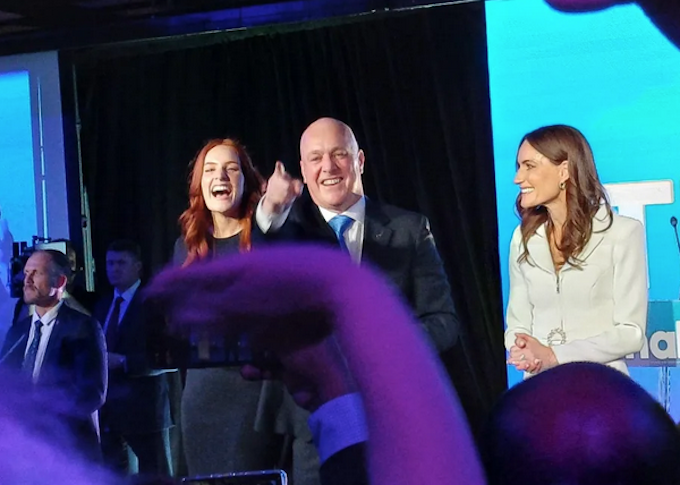 Christopher Luxon and the National Party are on course to form a new government with the ACT Party in Aotearoa New Zealand, with National winning almost 40 percent of the party vote in yesterday's general election.
National romped far ahead in the party vote in the election and were above 40 percent much of the night, but were falling just below at about 39 percent of the vote with 95 percent of results in the preliminary count as of nearly midnight.
That may mean the party needs New Zealand First to hit the numbers, but with special votes yet to be counted and a number of close electorate races, the final picture is not quite clear.
Labour was sitting at about 26.5 percent of the party vote, and Prime Minister Chris Hipkins conceded there was no chance he could form a government and that Labour was heading out after six years and two terms in office.
The Green Party was at about 10 percent, ACT at 9 percent, New Zealand First at 6.4 percent and Te Pāti Māori at 2.5 percent with 94 percent of results counted.
Te Pāti Māori was poised to win most of the seven Māori seats with new candidate Hana-Rawhiti Maipi Clarke defeating Foreign Minister Nanaia Mahuta in the Hauraki-Waikato electorate, ousting the longest serving female MP and at just age 21 becoming the youngest MP in Aotearoa in 170 years.
It is a stunning reversal from 2020's election, when Labour hit 50 percent of the vote as Jacinda Ardern's government won a second term and National cratered with 25.6 percent.
One Labour supporter told RNZ that "Labour expected a slap on the wrist. This is a punch in the face."
'A new government and a new direction' – Luxon
Greeting cheering supporters in Auckland, Luxon said the results were a mandate for change.
"You have reached for hope and you have voted for change," Luxon told supporters. "On the numbers tonight, National will be in a position to lead the next government."
"My pledge to you is that our government will deliver for every New Zealander, because we will rebuild the economy and deliver tax relief.
"We will bring down the cost of living, we will restore law and order, we will deliver better health care and we will educate our children so that they can grow up to live the lives that they dreamed of.
"That's what you voted for and that's what we will deliver."
A joyous crowd chanted "back on track" as Luxon spoke.
'I gave it my all, but that was not enough' – Hipkins
Earlier last night, Labour leader Chris Hipkins conceded that the party had no path to return to power, saying that "the result tonight is not one that any of us wanted".
Hipkins replaced Jacinda Ardern in January, but he joined other prime ministers like Mike Moore, Jenny Shipley and Bill English in failing to win election in their own right after taking over from another leader mid-term.
"I gave it my all to turn the tide of history, but alas, that was not enough."
Hipkins struck a defiant note in his speech and promised Labour would remain strong in opposition.
"When the tide comes in big it almost invariably goes out big as well . . . but Labour is still here, it is not going anywhere, and we will get up again as we have done many times before.
"We put people first, we refused to leave people behind, because that is what we do, that is what the Labour Party does."
Many electorate seats were still too close to call, with only a few hundred votes separating candidates.
This article is republished under a community partnership agreement with RNZ.