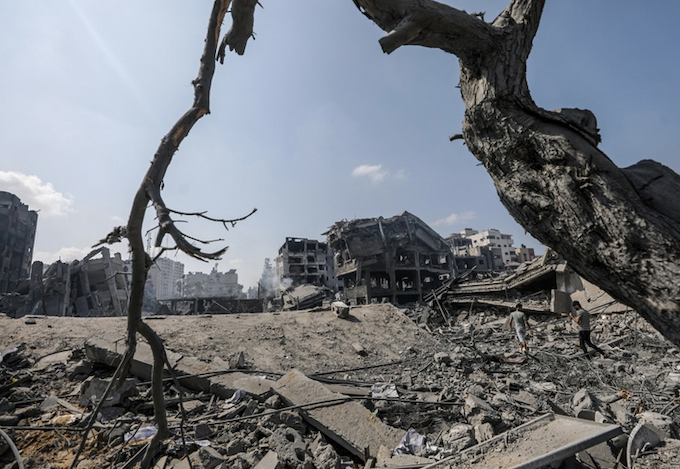 The International Press Institute (IPI) global network has called on all parties involved in the ongoing hostilities in Israel and Gaza to ensure all measures are taken to protect the safety of journalists.
IPI said in a statement that it was deeply alarmed by reports that at least seven Palestinian journalists had been killed since Saturday, with several others wounded.
There are also reports that one Israeli journalist was abducted in southern Israel while two additional Palestinian journalists are reportedly missing.
"We urge all sides involved in the hostilities to respect the right of journalists and media organiSations to safely cover armed conflict in accordance with international humanitarian and human rights law," said the statement.
According to reports, freelance journalist Mohammad Al-Salhi was shot and killed while reporting on the border to the east of al-Bureij, a Palestinian refugee camp in central Gaza on October 7.
Ibrahim Mohammad Lafi, a photographer for Ain Media news agency was killed while reporting near Beit Hanoun checkpoint, close to the border in northern Gaza.
According to a fellow journalist, he was wearing a press vest.
Mohammad Jargon, a reporter with Smart Media, was shot dead while reporting in the east of Rafah city in southern Gaza.
Killed in airstrikes
Another four journalists, Saeed Al-Taweel, Asaad Shamlikh, Mohammad Rizq Sobh, and Hisham Al-Nawajha, were killed in Israeli airstrikes on Gaza, according to IPI sources.
Meanwhile, the Israeli news organisation Ynet has reported that one of its photojournalists, Roy Idan, was abducted from his home in southern Israel by Hamas militants on Saturday, October 7.
In addition, there were reports that two Palestinian photojournalists — Nidal Al-Wahidi and Haitham Abdelwahid — went missing on Saturday while covering events at the Beit Hanoun checkpoint.
IPI sid it was also disturbed by reports that the offices of several Palestinian news organisations in Gaza were completely or partially destroyed in Israeli bombing raids.
The Palestine Government Media Office said in a statement that more than 40 media offices in Gaza were targeted.
"Amid the horrific developments that have taken place since Saturday in Israel and Gaza, we remind all parties of their obligations to protect journalists in situations of armed conflict, in accordance with international humanitarian and human rights law", IPI director of advocacy Amy Brouillette said.
"We are extremely disturbed by reports that at least seven Palestinian journalists have been killed and call on all parties involved to protect the right of journalists to cover the ongoing events. The flow of information remains essential during war and conflict."
Under the 1949 Geneva Convention on the Protection of Civilian Persons in Time of War, journalists and media workers covering armed conflict must be treated and protected as civilians and must be allowed to report on events without undue interference.
The intentional targeting of journalists, as civilians, is a war crime.