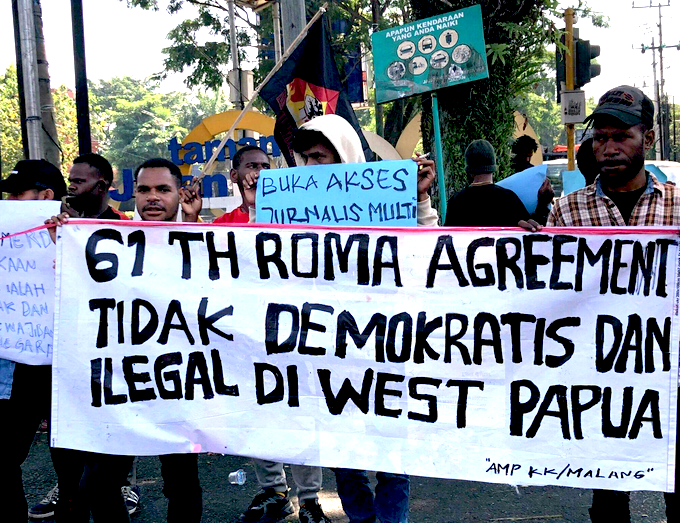 SPECIAL REPORT: By Yamin Kogoya
The Indonesian People's Front for West Papua (FRI-WP) and the Papuan Student Alliance (AMP) have denounced the Rome Agreement of 30 September 1962 as "illegal" during protest speeches marking the 61st anniversary last Saturday.
The groups gathered at several places throughout Indonesia to hold peaceful protests and speeches.
The protesters held a public discussion and protest in Yogyakarta, Lombok, West Nusa Tenggara, Ternate, East Java and North Maluku.
Some protesters were met by hardliner groups of Indonesians who claimed they were supported and protected by the Indonesian police.
The Facebook page of AMP reports that peaceful demonstrations were also scheduled for September 30 in Kupan city but were obstructed by Garuda reactionaries, known as ORMAS (Civic Organisation Group) and police officers.
Some conversations were extremely racist, indicating that both the police and state are still maintaining a policy of racism.
Protests such as these are not unusual. Papuan students and their Indonesian supporters do this annually in order to draw attention to Indonesia's illegal occupation of West Papua, which violates international law and the UN Charters on self-determination and decolonisation.
This time, the protest was over the Rome Agreement.
In 2021, an attempt to stage a protest in front of the US Embassy in central Jakarta was also made, but 17 AMP Papuan students were arrested.
What the protests are against
These protests across Indonesia may be dismissed by mainstream media as insignificant. But for Papuans, they are actually most significant.
The theme is protesting against what Papuans see as the "genesis" of a betrayal with lies, deceit, and manipulation by powerful international actors that sealed Papua's fate with Indonesia.
This set a stage of gross human rights violations and exploitation of West Papua's natural resources, which has been going on since these agreements were signed.
They were treaties, agreements, discussions, and decisions concerning West Papua's future made by state and multinational actors without Papuan input — ultimately leading to West Papua's "destruction".
According to the AMP, the agreement between the Netherlands, Indonesia, the United Nations (UN) and the United States was manipulated to gain control over Papua, reports Suara Kalbar.
The AMP Papuan students and their Indonesian solidarity groups stated that the September 1962 Rome Agreement, followed by the signing of the New York Agreement on August 15, 1962, was reached without the involvement of any representatives of the Papuan people.
The protesters' highlighted these flaws of the Rome Agreement that:
The Act of Free Choice to be delayed or cancelled;
"Musyawarah" (a form of Indonesian consensus building) be used rather than one-person-one-vote;
The UN report to the UNGA be accepted without debate;
Indonesia would rule West Papua for 25 years after 1963;
The US could exploit natural resources in partnership with Indonesian state companies; and
The US would underwrite an Asian Development Bank grant for US$30 million and guarantee World Bank funds for a transmigration programme beginning in 1977.
The agreement signed by Indonesia, the Netherlands and the United States was a very controversial with 29 articles stipulating the New York agreement, which regulates 3 things, where articles 14-21 regulate self-determination based on the international practice of one person one vote; and articles 12 and 13 governing the transfer of the administration from the United Nations Temporary Executive (UNTEA) to Indonesia.
Thus, this agreement allowed Indonesia's claim to the land of Papua, which had been carried out after the transfer of control of West Papua from Dutch to Indonesia through UNTEA on 1 May 1963.
West Papua 'conditioned'
The student protesters argued that prior to 1963 Indonesia had already conditioned West Papua by conducting military operations and suppressing the pro-independence movement, reports Koran Kejora.
Ironically, the protesters say, even before the process of self-determination was carried out on 7 April 1967, Freeport, the state-owned "mining company of American imperialism", had signed its first contract with Indonesia.
This meant that West Papua had already been claimed by Indonesia through Freeport's first contract two years before the Act of Free Choice was conducted, reports Koran Kehora.
The Act of Free Choice itself "was a sham", only 1025 out of 809,337 Papuans with the right to vote had been quarantined or voted, and only 175 of them voiced their opinion, protesters said.
Despite its undemocratic nature, terror, intimidation, manipulation, and gross human rights violations, with the implementation of the Act of Free Choice, Indonesia legitimised its illegal claim to West Papua.
Igin Kogoya, a coordinator for AMP and Indonesian supporters in Malang, said in a media release that Indonesia did not carry out the agreement in accordance with the New York Agreement, reports Jubi.
Instead, Indonesia uses a variety of military operations to condition the region and suppress the independence movement of West Papuans.
"Therefore, before the self-determination process was carried out in 1969, Freeport, the imperialist state-owned mining company of the United States, signed its first contract of work with the Indonesian government illegally on 7 April 1967."
Early Freeport mine deal
Naldo Wasiage of AMP Lombok and Benjos of FRI-WP Lombok claimed colonial Indonesia had made claims to the West Papua region with Freeport's first contract two years before the Act of Free Choice was passed.
Today, Indonesia's reform, terror, intimidation, and incarceration, as well as the shootings and murders of Papuans, still occurring.
The human rights of the Papuan people are insignificant and hold no value for Indonesia.
The Military Operation Area was implemented throughout West Papua before and after the illegal Act of Free Choice. This clearly demonstrates that Indonesia's desire to colonise West Papua until the present.
When asked about the Rome Agreement, Andrew Johnson, an Australian who has been researching international documents and treaties related to West Papua's "betrayal", said:
In order to invest billions of dollars in looting West Papua, Freeport would need assurances that Indonesia would be able to deliver access to the region. A Rome Agreement-type document would provide this assurance.
Victor Yeimo: Unveiling the atrocities
After being released from the Indonesian legal system and prison on 23 September 2023, Victor Yeimo addressed thousands of Papuans in Waena Jayapura by saying:
The Papuan people have long suffered under a dehumanising paradigm, which denies our inalienable rights to be human in our own land.
Yeimo said that the Papuan people in West Papua were systematically excluded from any decision-making processes that shaped their own future.
Jakarta's oppressive control led to arbitrary policies and laws imposed on West Papuans, disregarding their voices and aspirations. This exclusion highlighted the colonisers' desire to maintain control and dominance, he said.
The ratification of Special Autonomy, Volume II, serves as an example of Jakarta's deception. The Papuan People's Council (MRP), entrusted with representing the special autonomy law, was sidelined, rendering their role meaningless.
Jakarta's military intervention further emphasised the denial of Papuan rights.
The expansion of five new autonomous provinces in West Papua deepens the marginalisation of indigenous Papuans. This move reinforces the grip of Indonesian colonialism, eroding the cultural identity of the Papuan people.
Jakarta's tactics, supported by state intelligence and collaboration with local elites, legitimised its oppressive control, Yeimo said.
The state intelligence agency (BIN) in Jakarta manipulated conflict between Papuan groups and tribes to perpetuate hostility and division. By sowing seeds of discord, the colonisers sought to weaken the collective strength of the Papuan people and divert their attention away from their own oppressive actions.
Under Indonesian colonial rule, property, wealth and position held little significance for the Papuan people, Yeimo said.
Relying on hollow promises and pseudo-offers from the oppressors would never lead to justice, welfare, or peace. It was time to reject the deceptive allure of colonialism and focus on reclaiming autonomy and dignity, Yeimo told his people.
Embracing nationalistic ideals was crucial in the Papuan struggle for liberation. Indigenous Papuans must question their own participation in Indonesian colonialism.
Working for the colonisers as bureaucratic elites or bourgeois elites does not uphold their humanity or dignity. It is time to reclaim their autonomy and fight for their freedom.
Yamin Kogoya is a West Papuan academic who has a Master of Applied Anthropology and Participatory Development from the Australian National University and who contributes to Asia Pacific Report. From the Lani tribe in the Papuan Highlands, he is currently living in Brisbane, Queensland, Australia.