"The PMC Project" . . . a 2016 short documentary about the centre by then student journalist and Pacific Media Watch editor Alistar Kata.
An award-winning website with an archive of thousands of Pacific news reports, videos, images and research abstracts regarded as a pioneering initiative for a university based media programme has "disappeared" from its cyberspace platform.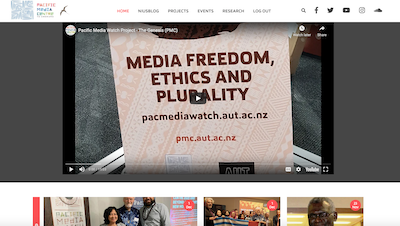 Pacific Media Centre Online, founded in 2007, was the website of the research and publication centre established at Auckland University of Technology as a component of the Creative Industries Research Institute (CIRI).
It was a platform for student journalists and independent media contributors from other media schools and institutions across the Oceania region such as the University of the South Pacific as well as at AUT.
One of PMC Online's components, Pacific Media Watch, was awarded the faculty dean's "Critic and Conscience of Society" award in 2014 and contributing student journalists won 11 prizes in the annual Ossie journalism awards of the Journalism Education and Research Association of Australia (JERAA).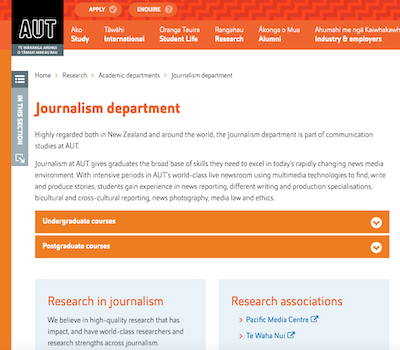 When the PMC effectively closed in early 2021, the website continued as an archive at AUT for more than two and a half years under the URL pmc.aut.ac.nz — a total life of 16 years plus.
However, suddenly the website vanished earlier this month with pmc.aut.ac.nz defaulting to the university's Journalism Department with no explanation from campus authorities.
Founding director of the Pacific Media Centre and retired professor of Pacific journalism Dr David Robie called it a disappointing reflection on the decline of independent journalism and lack of respect for history at media schools, asking: "Yet another example of cancel culture?"
'Appalling waste'
Media commentators on social media have raised questions and been highly critical.
Jemima Garrett, co-convenor of the Australia Asia Pacific Media Initiative (AAPMI), described it as an "appalling waste and disrespectful".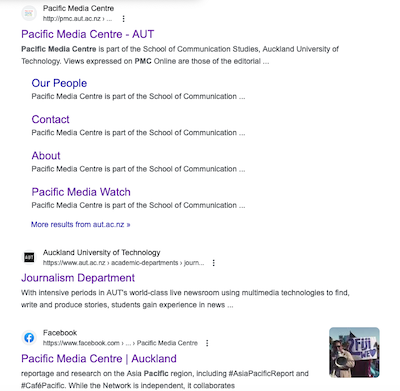 Investigative journalist and Gold Walkley winner Peter Cronau, who is co-publisher of Declassified Australia, wrote: "That's disgraceful censorship of Pacific stories — disturbing it's been done by AUT, who should be devoted to openness and free speech. What avenues exist for appeal?"
Another investigative journalist and former journalism professor Wendy Bacon said: "This is very bad and very glad that you archived all this valuable work. Unfortunately the same thing happened to an enormous amount of valuable files of Australian Centre for Independent Journalism at UTS [University of Technology Sydney]."
The Pacific affairs adviser of the Pacific Islands Forum, Lisa Leilani Williams-Lahari, said: "Sad!"
Pacific Media Centre student contributors filed more than 50 reports for the Australian journalism school collaborative platform The Junction and they can be read here.
The PMC Online archive can also be accessed at WebArchive and the National Library of New Zealand.
More than 220 media videos by students and staff are available on the PMC YouTube channel.
Stop press:
On Monday, 2 October 2023, AUT restored the PMC Online archive here at this url: https://pmcstatic.aut.ac.nz/
The Pacific Archives – 13 years of storytelling, news, current affairs and research from the Pacific Media Centre available online – thanks to @JunctionJournos and @Tuwhera at @AUTuni @USPWansolwara @JERAAus #journalism #research https://t.co/EfOBFwcipp

— David Robie (@DavidRobie) October 9, 2023