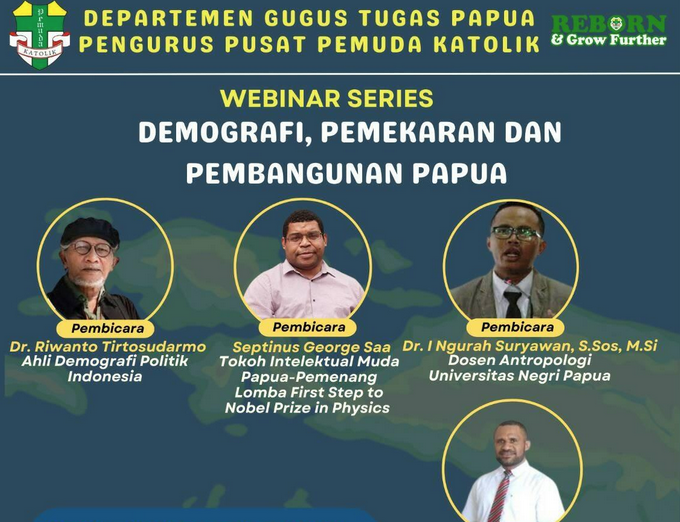 Jubi News in Jayapura
Academics at Papuan tertiary institutions have accused Indonesian authorities of a new "indigenous marginalisation" programme through the establishment of the autonomous regions of Papua that poses a "significant threat" to the local population.
The dean of the Faculty of Social Science at Okmin University of Papua, Octaviaen Gerald Bidana, said the new autonomous regions (DOB) established by the central government was a deliberate strategy aimed at sidelining the Indigenous Papuan population.
This strategy involved the establishment of entry points for large-scale transmigration programmes.
Bidana made these remarks during an online discussion titled "Demography, Expansion, and Papuan Development" organised by the Papua Task Force Department of the Catholic Youth Center Management last week.
He said that the expansion effectively served as a "gateway for transmigration", with indigenous Papuans being enticed by promises of welfare and development that ultimately would turn out to be deceptive.
Echoing Bidana's concerns, Nguruh Suryawan, a lecturer of Anthropology at the State University of Papua, said that the expansion areas had seen an uncontrolled influx of immigrants.
This unregulated migration, he argued, posed a significant threat to the indigenous Papuan population, leading to their gradual marginalisation.
Riwanto Tirtosudarmo, an Indonesian political demographer, analysed the situation from a demographic perspective.
He said that with the establishment of DOBs in Papua, the Papuan population was likely to become a minority in their own homeland due to the increasing number of immigrants.
The central government's stated objective for expansion in Papua was to promote equitable and accelerated development in eastern Indonesia.
However, the participants in this online discussion expressed scepticism, saying that the reality on the ground told "a different story".
The discussion was hosted by Alfonsa Jumkon Wayap, chair of the Women and Children Division of the Catholic Youth Central Board, and was part of a regular online discussion series organised by the Papua Task Force Department of the Catholic Youth Central Board.
Papuan demographics
Pacific Media Watch reports that the 2020 census revealed a population of 4.3 million in the province of Papua of which the majority were Christian.
However, the official estimate for mid-2022 was 4.4 million prior to the division of the province into four separate provinces, according to Wikipedia.
The official estimate of the population in mid-2022 of the reduced province of Papua (with the capital Jayapura) was 1.04 million.
The interior is predominantly populated by ethnic Papuans while coastal towns are inhabited by descendants of intermarriages between Papuans, Melanesians and Austronesians, including other Indonesian ethnic groups.
Migrants from the rest of Indonesia also tend to inhabit the coastal regions.
Republished from Jubi News with permission.