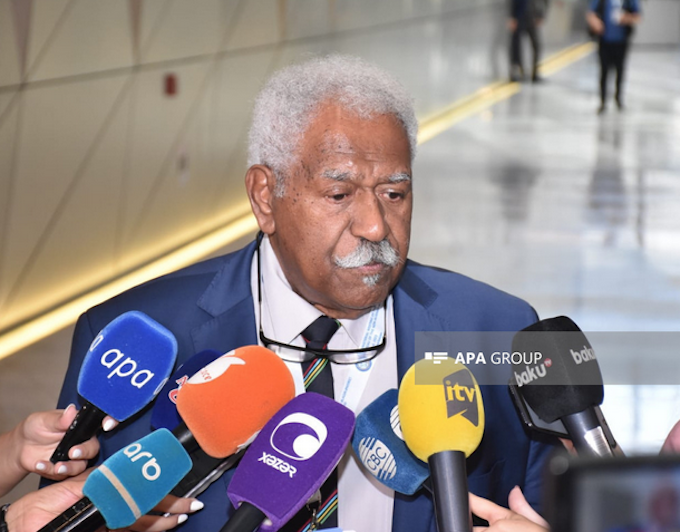 By Patrick Decloitre, RNZ French Pacific correspondent
Inclusive talks in Paris between France and Kanaky New Caledonia's politicians have yielded outcomes, including a French-submitted document on its future.
The talks, held last week, aimed at resuming all-round dialogue over a possible future status for New Caledonia.
Since the end of 2021 and a series of three referendums on New Caledonia's independence, talks had stalled.
Paris has tried but failed to bring pro-French and pro-independence parties to the same table.
Instead, there were only "bilateral" talks, separately, between France and the pro-independence camp, and between Paris and the pro-France camp.
During the latest round of talks from September 4 to 8, all sides were present for the first time in almost two years.
French Home Affairs and Overseas Minister Gérald Darmanin put on the table a working document which, he said, albeit "ambitious", remained open to modifications from all sides of New Caledonia's political spectrum.
Sensitive topics
The document covers sensitive topics such as New Caledonia's future right to self-determination, but also ways to build and strengthen the notion of a "New Caledonian citizenship".
"I have been personally involved, I have travelled to New Caledonia four times over the past year . . . We have had a lot of exchanges and a climate of confidence has emerged," Darmanin told the French newspaper Le Monde.
"There was goodwill from all sides … We have decided to put this project on the table because nobody was doing it," he added.
The working document, Darmanin said, contained what he described as a "modernisation of New Caledonia's institutions", including changes to the areas of responsibilities both on New Caledonia's government level, but also for its three provinces.
"The project also reaffirms that New Caledonia remains French, but retains a specific paragraph in the [French] Constitution, which means the 1998 Nouméa Accord will not be affected in terms of a New Caledonian citizenship within the French citizenship" he told Le Monde in the same weekend interview.
Another sensitive issue was New Caledonia's electoral roll for local elections to be held next year.
For the past 25 years, as part of the autonomy Nouméa Accord signed in 1998, the list of eligible voters was "frozen" to only include residents who were born in New Caledonia or established there before 1998 (including their descendents).
Temporary measure
The measure was supposed to be temporary for the duration of the Accord, which is now deemed to have expired.
From France's point of view, these special measures are no longer tenable and should be brought closer to a one-person, one-vote system before New Caledonia's provincial elections are held in 2024.
On New Caledonia's right to self-determination, Darmanin's draft "no longer includes a date or a timeline to achieve it", he said, adding this would remove the "Damocles sword" of a "binary question YES or NO to independence".
Instead, any future project would be submitted "by New Caledonians themselves", and should be endorsed by a minimum two-thirds of the local Congress.
The document is understood to serve as a basis for further discussions to be finalised by the end of 2023, Darmanin said, adding the final version would result in a French Constitutional amendment scheduled to be put to the necessary vote of the French Congress (both the Senate and the National Assembly).
He said if no agreement was reached by then, "we will amend the electoral roll in order to hold provincial elections [in 2024]. This is a democratic requirement".
Darmanin said he would travel again to New Caledonia at the "end of October" to pursue talks with all parties.
'Responsibility in face of history'
"[Last] week, pro-independence and anti-independence (politicians) have held meetings with me in the same room . . .  I am counting on those parties' great sense of responsibility in the face of history," he said.
French President Emmanuel Macron was in New Caledonia late July, when he announced plans for the Constitutional amendment and specific arrangements for New Caledonia sometime early 2024.
Last Friday, he met visiting New Caledonia politicians to mark the end of the week-long Paris talks.
"The President insisted on the need to reach an agreement in order to fully engage on the path of forgiveness and future," Macron's office said in a statement.
On the pro-French side, Sonia Backès — the pro-France President of New Caledonia's Southern Province — said that "by October 11, we should have a document that lists all points of agreement and also those points of disagreement".
"We have the feeling things are moving forward," pro-independence FLNKS delegation member Victor Tutugoro told French public media television Outre-Mer la 1ère. "So we're going to start working on this [document] and really open negotiations by the end of October," he added.
All three referendums held between 2018 and 2021 have resulted in a majority of voters rejecting independence in New Caledonia.
Final steps required
France regards those results as one of the final steps required from the Nouméa Accord, signed 10 years after another deal, the Matignon-Oudinot Accord, was struck in 1988 to bring an end to half a decade of a bloody quasi-civil war.
But the FLNKS, the umbrella of pro-independence parties, is contesting the outcome of the third referendum held in late 2021, which was largely boycotted by the indigenous Kanak population, saying the covid restrictions and subsequent traditional mourning deterred many of the indigenous Kanaks from voting.
While pro-French parties have seen those three referendums results as evidence of the will for New Caledonia to remain French, the FLNKS is claiming it wants to bring the matter before the International Court of Justice.
It recently received in-principle support from the Melanesian Spearhead Group (MSG) leaders who held their summit in Port Vila, Vanuatu in late August.
The MSG consists of Fiji, Vanuatu, Papua New Guinea, Solomon Islands and FLNKS as a non-state member.
This article is republished under a community partnership agreement with RNZ.