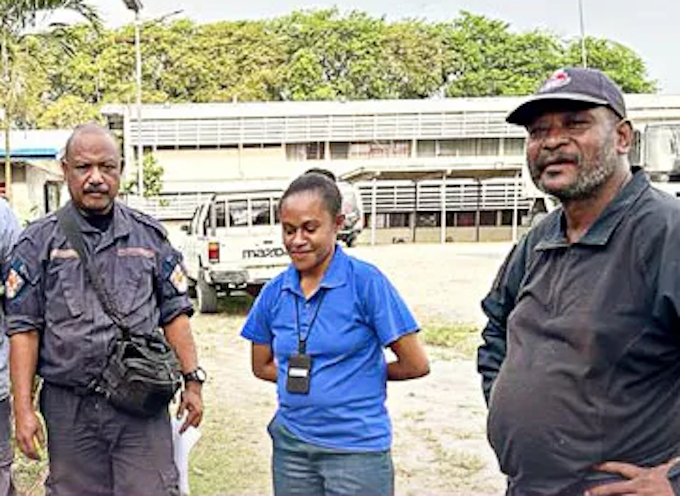 Northern Governor Gary Juffa has joined Papua New Guinea's police chief and the Prime Minister in calling for Papua New Guineans to lay down arms and cease acts of local terrorism.
"I stand with the Commissioner of Police, David Manning, and Prime Minister James Marape to apply the full force of the law to quell all forms of local terrorism in PNG and, particularly, in Northern Province.
"I am particularly concerned as a few weeks ago my Oro Bay RPSC [rural police station commander] Sergeant Terry Giwaya was ruthlessly gunned down only a few kilometres away from his station," Governor Juffa said.
"I commend Commissioner Manning and his ACP Southern Clement Dalla for their swift action in responding to our plight, seeing through the proficient capture of the alleged thugs and the recovery of an alleged police firearm.
"The success of this operation is attributed also to the provincial police command, our local Northern police personnel," Juffa said
"All gloves off" was not an order given lightly by any police commissioner or prime minister but with "our ignorance of the rule of law" and the disrespect to its enforcement machinery — the RPNGC — such an order was "timely and very necessary".
Law and order priority
Juffa added that law and order in Northern Province would always be a priority on a par with health, infrastructure and education and had seen the Northern provincial government spending close to 1 million kina (about NZ$463,000) to date.
"Every citizen has a right to move freely without fear and to engage in commerce with the full covering of the laws of our country," Juffa said.
"I stand with my prime minister and our police commissioner to clamp down on local terrorism and elements that fuel the atrocities."
Governor Juffa indicated plans were afoot to take the body of Sergeant Giwaya back home, including an official programme scheduled to take place after the September 16 independence celebrations next weekend.
Republished with permission.