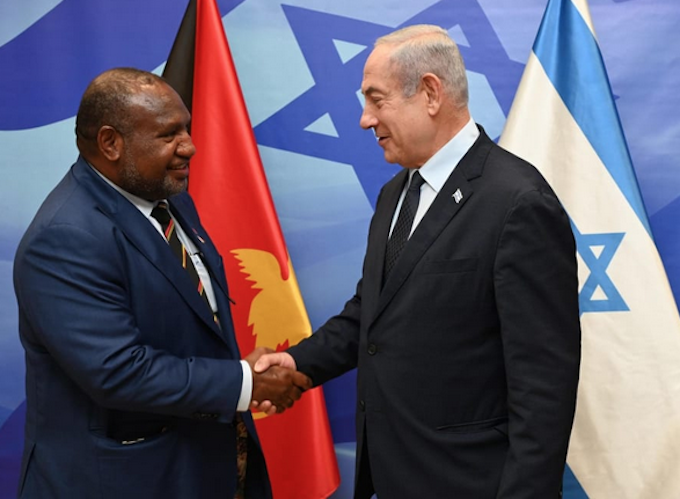 The Palestinian Authority has called the opening of Papua New Guinea's Israeli embassy in Jerusalem an "aggression" and a "violation" of international law.
In a statement, Palestine's Ministry of Foreign Affairs and Expatriates termed the embassy opening as "an aggression against the Palestinian people and their rights" and "a blatant violation of international law and United Nations resolutions".
On Tuesday, PNG Prime Minister James Marape inaugurated the embassy in West Jerusalem, becoming only the fifth country to set up a diplomatic mission in the city.
In 2018, the US moved its embassy from Tel Aviv to Jerusalem in a move that was followed by Honduras, Guatemala and Kosovo.
The Palestinian ministry said it would use all political, diplomatic and legal means to "pursue these countries over their unjustified aggression against the Palestinian people and their rights."
The Organisation of Islamic Cooperation and Jordan have also condemned the move.
Religion behind the move
According to the Times of Israel, Marape was explicit that the opening of the embassy was down to religious motivations.
The country opened its embassy "because of our shared heritage, acknowledging the creator God, the Yahweh God of Israel, the Yahweh God of Isaac and Abraham," the newspaper quoted Marape as saying.
"You have been the great custodian of the moral values that were passed for humanity," Marape told Israeli Prime Minister Benjamin Netanyahu, who attended the ceremony opening.
"Many nations choose not to open their embassies in Jerusalem but we made the conscious choice. This has been the universal capital of the nation and people of Israel.
For us to call ourselves Christians, paying respect to God will not be complete without recognising that Jerusalem is the universal capital of the people and nation of Israel."
Marape also asked Israel to open an embassy in Port Moresby, and offered to provide the land for the mission.
Earlier this week, it was revealed that Israel would bankroll the embassy.
This article is republished under a community partnership agreement with RNZ.