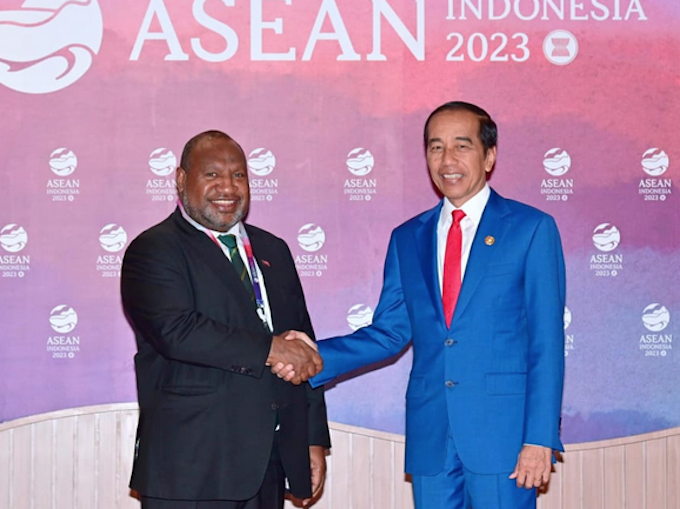 Papua New Guinea Prime Minister James Marape has told Indonesia's President Joko Widodo that PNG has no right to criticise Jakarta over what he calls alleged human rights abuses in West Papua.
The two leaders spoke on the sidelines of the ASEAN summit in Jakarta, reaffirming commitments to maintain dialogue to build stronger and trustful relations that had been made when they met in Port Moresby in July.
Marape told Widodo he had abstained from supporting the West Papuan bid to join the Melanesian Spearhead Group at last month's meeting in Port Vila because the United Liberation Movement for West Papua (ULMWP) "does not meet the requirements of a fully-fledged sovereign nation".
"Indonesia's associate membership status, also as a Melanesian country to the MSG suffices, which cancels out West Papua ULM's bid," Marape said, referring to the ULMWP.
He said about the allegations of human rights issues in West Papua, that since PNG had its own challenges, it had no moral grounds to comment on human rights issues outside of its own jurisdiction.
The Indonesian president said PNG deputy Prime Pinister John Rosso would be invited to assess developments taking place in West Papua.
Widodo said Indonesia's was committed to building trustful and cooperative relations with all Pacific countries and would extend an invitation to their leaders to attend the Archipelagic Island States (AIS) Forum next month in Indonesia.
Meanwhile, on the planned electrification project in PNG's western provinces, the two leaders pledged to ensure this project would go ahead smoothly and is completed on time.
This article is republished under a community partnership agreement with RNZ.